In an age when there's a collective call—perhaps especially form Millennials—for more authenticity within our relationships, The New York Times bestselling author Donald Miller has delivered Scary Close: Dropping the Act and Finding True Intimacy.
Though he didn't write this book with a particular audience in mind, Miller said, "There's a crisis in American masculinity. Male identity is so hard to pin down any more. We need to talk about what's going on in our culture." Regardless of the actions they take or don't take, Miller said men feel criticized, and "guys don't know what they're supposed to do."
To the delight of his fan base and publisher (Thomas Nelson) Scary Close is Miller's first book in five years and arguably his best yet. Following Blue Like Jazz, Searching for God Knows What, To Own a Dragon and A Million Miles in a Thousand Years, it's easy to begin to see the cycle: Miller struggles through a season, learns important lessons, then writes a book about his experiences. Scary Close offers readers the most important lesson yet: Stop wasting time trying to craft a persona that isn't you, and trust that others will love the person you were created to be.
Scary Close is the yearlong chronicle of Miller's journey of learning to drop the mask, be himself and risk himself for the sake of true intimacy. "I started the book when I was chasing Betsy (now, his wife) to D.C. I just began writing my thoughts about what was going on in my life,"he said.
"I had to hit rock bottom. I had to break off another relationship. I had to get help and figure out what I was doing," he said.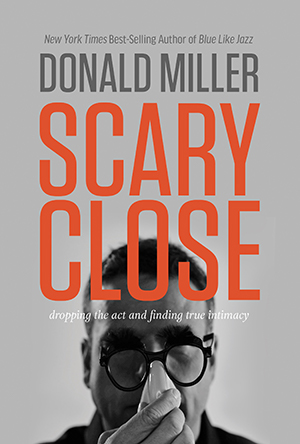 Miller sees there are cultural changes generationally, particularly among young people who are delaying making life decisions due to culturally induced fears, and said, "Heroes can't be heroes on their own. Guys who go it alone, there's a real damage to that. Fear is real, but it's got to be overcome."
Not marrying until he was 42, Miller said he realized he'd been acting his whole life, but finally shed the mask to trust he still would be loved when he stopped trying to impress others. "In the past four or five years, I went from an isolated writer to married and had more than a hundred house guests—hundreds of people over for dinner. There's incredible freedom in not worrying about how you're coming off or being perceived.
"The benefit of risking yourself is developing a sense of community. As a writer, I have to hunt down a book; it's very technical," he said. "Yet dropping the mask has made writing easier."
There are implications for developing greater authenticity in nearly every aspect of life. Numerous studies and reports tells us technology is leaving us more isolated and lonely than ever before in history. Churches are places where we often don masks and pretend our lives are going better than they really are. Parents and other family members often hide long-held secrets. Workplaces often promote cultures that don't leave much room for authenticity.
However, Miller argues via Scary Close that we would do well to end our obsession being connected in a virtual world to take risks in the real world; that children are healthier when parents don't hide family histories from them; that workplaces can value employees while also being profitable; and that our faith becomes richer when we can be honest with one another.
Scary Close is available in stores and online at Amazon.com. Miller's next project is StoryBrand, release date to be announced. Learn more at StoryBrand.com, or live a better story at CreatingYourLifePlan.com.