David Phelps is a man of faith. He's also a self-declared cynic. A doubter. A person who sometimes works out the facts in his head before the truth seeps into his heart.
This tug-and-war of faith might initially sound strange. Considering that Phelps' platinum-plated voice has motivated a vault of hair-raising renditions of some of history's most faith-affirming songs as one of the most famous and fan-favored members of the legendary Gaither Vocal Band. Add his own discography of spirit-laden solo tracks to the mix and it may seem he is a person who, at least in terms of his faith, has it all together.
But after the heartache of losing his sister and long-time musical partner to a battle with cancer in 2012, the commanding musician says backstage faith is still a day-to-day practice of hope by focusing on Jesus. And on his latest solo record Freedom (Gaither Music) — his first true singer-songwriter effort in a decade — Phelps put pen to paper as an effort to work through his spiritual journey with fear and trembling…and with melody.
Here, the GRAMMY and Dove Award-winning artist shares the personal nature of his most recent musical process in this CCM Magazine exclusive conversation.
CCM: This new project, Freedom, possesses a darker tone, darker than many listeners will anticipate from a David Phelps record. How does this song list reflect your place in life?
DAVID PHELPS: I have had the opportunity to record amazing songs throughout my career. Songs of hope like "No More Night." Songs of desperation like Sarah McLachlan's "Angel." Songs of longing like "I Want to Know What Love Is." Songs of victory like "End of the Beginning." Art pieces like "Nessun Dorma." Love songs, survival songs, joyful songs, they all in some way have reflected where I was at that moment in time.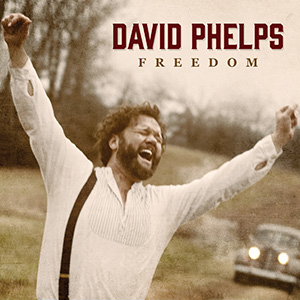 I certainly didn't intend this project to be dark, just a snapshot of where I am on my journey. We all have dark moments, and maybe some of the songs relate in that way — but that's real life and faith. Not the absence of trouble, just the ability to be led through it by our loving Savior. For me, these songs are like the rings of a tree telling its story. Some years were plentiful. Some were dry. But in the end they all speak of life.
CCM: You wrote or co-wrote nine of the fourteen songs on Freedom. What compelled you to invest in the songwriting process more than ever before?
DAVID: I hadn't written anything for a couple of years and I guess the dam just burst. I didn't decide to record a project and then start looking for songs, I just began to write and write and write. At some point I realized I had more than enough material to put on one recording. After the process began, a few writers began to pitch some other material my way that really fit with what I wanted to say. To get the song list down to fourteen was a chore.
My first two projects, David Phelps and Revelation, were filled with contemporary songs of faith. I will always sing those songs, but when I think of them I'm struck at how bright-eyed I remember them. That's clearly a reflection of where I was in life. On Life Is a Church I made the conscious effort to step-up the emotional honesty a notch. My songwriting and song selection were more reflective of my faith, fears, hopes and doubts.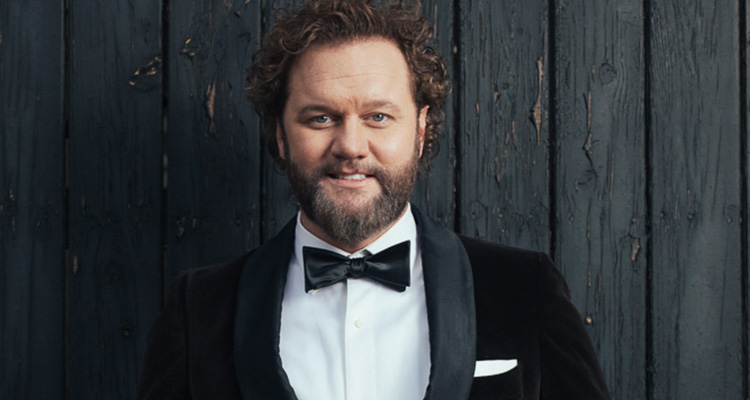 Since then, I've recorded two albums of classic songs, a Christmas CD, a Family Band CD, five live concert DVDs, plus too many projects to count with the Gaither Vocal Band. Freedom is truly my first songwriter-artist project since Life is a Church in 2005. It was time. If there was a conscious effort in molding this project, it was to fill it with reflections of real faith in the style that "brought me to the party," so to speak. 

CCM: "So you're a cynic / Oh well I get it / It's hard to trust what you can't see / You've been broken / How can you hope in or believe in a mystery." Are these lyrics from "Who Do You Say I am" autobiographical?
DP: The thing is, I relate to the cynic. I don't take things at face value. I question and I ponder. I have a heart to reach those who have embraced doubt instead of faith, who have come to believe that you can't be a thinker and a Christian, who have accepted the assertion that science contradicts faith.
Dr. Francis Collins, one of the world's leading scientists and head of the Human Genome Project responsible for mapping human genetics, and a believer, wrote in his book The Language of God that using science to prove or disprove God is akin to attempting to unlock a door with a potato. Science is the study of the natural. God is supernatural. In a world where we are constantly bombarded with the message of anti-faith, those are encouraging words. This song really sprung from a desire to spread that message. Long-time collaborator Cindy Morgan came out to my farm one afternoon. With her on mandolin and me at the piano, we wrote from our desire to tell everyone that they are not alone in asking those questions. In the end, the song repeats one of the most poignant questions Jesus ever asked anyone in the midst of doubt, "Who do you say that I am?"
CCM: "I am walking wounded, broken / I want back the joy I knew / I need something real to hope in . . . I've been such a great pretender / But it's wearing on my soul / I have no terms for my surrender / Help me Jesus, make me whole." This is a very vulnerable lyric. I will guess many of your fans—perhaps from the southern gospel world—will not know what to do with this song at first.
DP: If there is one thing for which I find myself continually grateful as I step on stage night after night, it is the wide range of my audience. Young, old, hip, not-so-hip (to whom I relate), critics, fans, Christians and even a few atheists from time to time. Of course, this presents challenges as I attempt to weave a thread that unites us all in those moments. What I have found to be the most effective element is honesty. Whether that's directly in a lyric, in the way it's sung, a story or even just body language—honesty is the key ingredient.
This lyric is about as vulnerable and honest as I can get. Incidentally, it's been the first song on listeners' favorites list so far. This is who I am at any given moment these days, and the path from the verses to the chorus could easily represent a day in my life. On the first verse, I'm pretending. In verse two, I'm a mess. The chorus, I need Jesus. Verse three I'm pretending I'm not a mess. The chorus, I need Jesus. In verse four, I'm tired of pretending I'm not a mess. Closing chorus, I need Jesus. It's encouraging to hear from listeners that I'm not alone on this roller coaster.
CCM: David Phelps the solo artist. The southern gospel singer. The classically trained, musically proficient vocal (and producer and songwriting) technician. No matter the platform, what does David Phelps—the human being—want to share with others through his music?
DP: For me, music is a vehicle. Though that vehicle can be wonderful in and of itself, I find it is best suited as transportation for a message. And every message is wrapped in emotion—passion, anger, resolve, revenge, hope, need—take your pick. Early on I was drawn to the emotional connection that I was able to make with listeners. There is power and responsibility in that. So I've decided that if I can leave my audience more hopeful than before the song began, then that is my goal. If a song can inspire, sign me up!