DARLENE ZSCHECH KEEPS THE QUEST FOR HER SAVIOR ALIVE
One might assume that penning a global worship anthem sung by thousands and thousands of people around the world every week would be a career pinnacle. But for Darlene Zschech, it was just the beginning.
Since writing the iconic worship song, "Shout to the Lord," which has now been covered by over 20 artists and is one of the most sung songs in the world, Darlene has become a figurehead of the modern worship movement globally. And it is from this platform that she has continued to follow the promptings of God in her music, missions and ministry.
"Every day, the beauty of the Word comes alive," says Darlene. "It is changing us. The Holy Spirit is confronting us so gently and kindly."
Those confrontations are behind Darlene's most recent project — a Live CD/ DVD and devotional called Revealing Jesus, which fellow worship leader and friend Israel Houghton produced.
"Israel and I have been friends for a long time," she shares. "He's completely ADD! He has more energy and focus than anyone ever sees. He's just amazing and very generous with his time and creativity."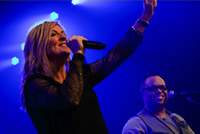 The pair clearly have chemistry…as the album, which was recorded in Birmingham, AL, truly showcases the poetry of Darlene's writing and the endlessly brilliant sonic component from Israel. As Darlene said, the entire experience was amazing. The fact that she was given a fair dose of Southern Hospitality gave the girl from Down Under yet another reason to celebrate the process.
"They were the most hospitable people I've ever met," she says. "After being there for a whole week, it was really hard to say goodbye. They were very much like family. It was refreshing. I went home feeling inspired."
Inspiration is a running theme in Darlene's life. In fact, a trip to Rwanda in 1994 on the tenth anniversary of the genocide that ravaged the country inspired her husband and her to do something. At the time, it was not yet clear as to what that would be. Soon, prompted by the 100 Days of Mourning Rwanda sets aside in memoriam, they launched 100 Days of Hope, during which medical treatment was made available to thousands, millions of Bibles were distributed, hundreds of teachers were trained and the list goes on and on. So too does the ministry, called Hope Global.
"We thought it would be 100 days and done," says Darlene. "But it has kept going. We're now working in India and Cambodia. It's awesome. Service and worship are so closely related."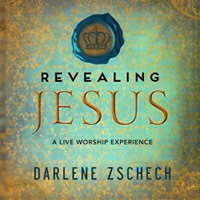 And as the two have woven in and around Darlene's heart and onto the pages of her journals, the concept of Revealing Jesus was born. Devotions derived from Darlene's personal meditations and Bible study reveal the object of her affection and attention—the Jesus that she is continuing to learn, understand and find in new ways every day.
"He is showing me stuff everyday," she says. "How much He loves us… He keeps reminding me that He really does love us. Even when we're praying for things that don't happen, you have to remember that all things do work together for good. There is a greater revelation of the power of the cross that I'm learning more about everyday. Even when I'm praying…I'm finding a new authority and it's changing me."
In the book introduction, those changes are brought to the fore.
"To say that I am desperate for the power of the cross and the power of the blood of Jesus to be outworked in a greater measure in my life is an understatement. His presence beckons me…"
And in the responding, she continues to discover the endless, yet constant nuances of God's grace, mercy and love.
"You've got to remember that God doesn't change," she says. "It's really hard to know sometimes what the best thing is. But when you get the opportunity, you thank God even on the worst of days.
"I'm not separate. I don't have a perfect life. This is the world we live in. Even on the worst of our days, we have a God who holds us and loves us. We just have to be present."
That lesson and many others like it are becoming part of a legacy that Darlene is passing on to younger generations.
"I'm really passionate about raising up the next generation. We have a responsibility as mothers and fathers, and yet we are seeing a parentless generation like we never have before. I've had to learn to put margin in my day. Everyone's hurting, everyone has a story. It's a great privilege to walk with people through that sacred space.
"…the songs on this project are filled with declaration of scripture to ensure that it is truly woven within the fabric of your heart, and this devotional was written to give you food for thought each day about how Jesus is revealed in our every day lives," continues Zschech. "So I pray you are fueled for service as you read, and that your hearts yearn for more of Jesus as you worship Him with every fiber of your being."
As she wishes for others, she also wishes for herself.
Constantly yearning for more…constantly serving those around her…and forever on a quest to reveal more and more of her Savior and Lord.