It is exactly 2,397 miles from Salmon Arm, British Columbia to Nashville, Tennessee, a 36-hour drive if you're up for the trek. Dan Bremnes has, by all measures, come a long way.
The Canadian singer-songwriter, one of Capitol CMG's latest roster additions, boasts powerful vocal abilities, indelible melodies, and vertical lyrics on an already loaded lineup. His talent and testimony offer proof that the cream does rise to the proverbial top, as a hopeful musician from such a small town fulfills his dream of making music for a living.
"The first time I was ever paid to play was for a festival in eastern Canada," says Bremnes, as he remembers his early performing days. "They paid me by paying for my flight, which was really expensive, like a thousand dollars. I remember getting the invite, and I was so pumped. I was like, 'Someone is going to fly me across the country?' Honestly, I probably would have paid for my own flight, I was so excited about the opportunity.
"One thing I want to always have is the excitement to perform and to share the messages that are within these songs," he continues. "I still get giddy when people ask me to come and share my music. It's such an honor and a privilege to do that, and I don't take it lightly. Getting into music feels like a one-in-a-million shot. Your mom will like your music, and your friends will, too, but what about other people? It's a big question."
Bremnes' musical aspirations come honestly, as they were his only aim even as a young child. He was drumming at his home church by the age of ten, and soon began to experiment with the guitar which led him into songwriting. He was soon leading worship and writing songs of his own, but it was during a pivotal six-month season with Youth With A Mission in Australia when Bremnes truly honed in on how he wanted to use his gifts.
"While I was there, something happened in my life and God began working on my heart. I dug much deeper into my faith," says Bremnes. "Something sort of clicked in me. After gaining more experiences to lead worship and share my faith, I began thinking about making my own music that was intentional on reaching people on a spiritual level. I wanted to come right out and speak about God and my relationship with Him."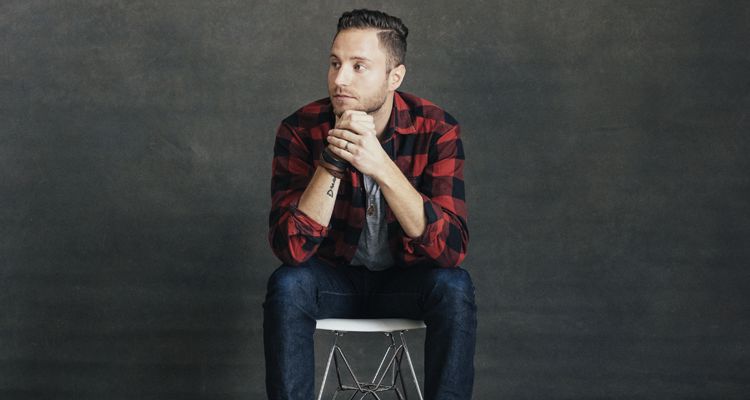 Unfortunately, Bremnes also endured an unexpected season of major trial that would shape his faith and his calling in very significant ways.
"I was working as a full-time carpenter around the time of the housing market crash, so when that hit I rapidly began to lose my main source of income," Bremnes recalls. "It forced me to think about a lot of things, but God also used that time to remind me of my life-long passions for music. I realized that I had been given a window of opportunity, and I waned to give it everything that I had."
From that point forward, Bremnes made an all-in commitment to himself, and to God, to continue pursuing music as his primary vocation. As clarity seemed to have come out of chaos, even darker days were just around the corner for Dan Bremnes. While attending a friend's wedding in another country, he received a phone call informing him that his mother had been killed in a car accident.
"That was the beginning of a very difficult season," he says. "It was actually the darkest season of my life. I remember it being such a shock, and in the midst of all of that deep darkness, realizing just how much I needed a Savior. The Bible says Jesus is the light of the world, and it was through this I realized no matter how far away I was,  or how dark the shadows grew, there was nothing that could separate me from Jesus. He alone pulled me out of the darkness, and back into the light.
"Romans 8:28 says And we know that in all things God works for the good of those who love him, who have been called according to his purpose. If anyone would have quoted that verse to me during those extremely dark times, I would have said there was no way any of that could be good. However, I can now attest to how God does bring beauty out of those situations. I don't think tragedy is ever in God's plans, but His timing for things can only be perfect and there isn't anything that God can't redeem."
Those experiences gave birth to some of the most powerful tracks on Bremnes' debut  album, Where The Light Is. Many fans have already heard the hit single "Beautiful," a memorable prayer to God where Bremnes sings, "You're making this life so beautiful." The title track and "In His Hands" are similarly powerful refrains that speak of God's love and faithfulness.
Such subjects have always surrounded Bremnes, after all he did grow up in the church as the son of a pastor. However, he says it wasn't until he endured trials of his own that these concepts became real and meaningful to him. After tour dates with The Afters and Hawk Nelson, he's finding out that his message and experience is resonating with others who feel the same way.
"It's awesome to always be surrounded by Christianity, but there's also another edge to it," says Bremnes. "You grow very accustomed to it. You take it for granted. I didn't know what true darkness was—I never really had to struggle. I would see a lot of people come from dark backgrounds and Jesus would save them, and I always thought, 'I wonder what that's like.'
"After a while, I came into the realization that Jesus isn't just for people outside of the church. Jesus also came for me. It may come across as sounding backward, but my experiences led me to my need for the gospel, my desire to live in and for the light. In a unique way, I feel like I get to represent a certain group of people that has felt jaded with church, who feel like the gospel isn't alive or real. The journey that I have been on has become very real for me, and I want to keep on living out that example for others."