For Crystal Lewis, it's all about God, family and music—in that order.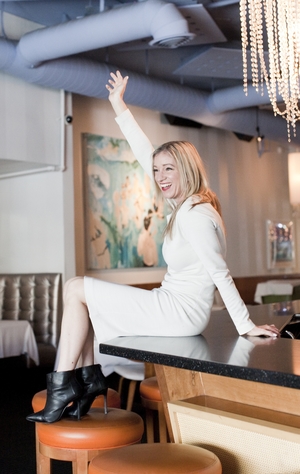 As one of Christian music's most notable artists, Crystal Lewis has made a career of rising to the top while remaining exceptionally grounded. With multiple Dove Awards to her name, the GRAMMY-nominated songstress has performed alongside some of music's greatest artists and vocalists, including Kirk Franklin, Bono, R. Kelly and Mary J. Blige, cementing herself as one of Gospel music's most beloved and successful powerhouse balladeers over the course of her near 30-year career. She has recorded nearly a dozen albums, owns and operates her own record label, Metro1Music, along with husband Brian Ray, and has inspired the industry careers of her son, Solomon, a Christian music producer, and her daughter Isabella, blossoming Christian artist "Izzy Ray."
But behind the extraordinary talent, strength of faith, and unwavering respect in the industry, Lewis says it was her own family-oriented upbringing that truly gave her the tools to not only build a music career, but to maintain a humble focus on regular life, in the face of enormous success.
Born and raised in Southern California, Lewis spent every Sunday in church. Her father was a pastor and her mother led worship. Early on, Lewis' mother spotted rare talent in the burgeoning singer and continued to nurture that gift throughout her childhood, spending countless hours on the piano accompanying her vocal rehearsals.
That commitment, sacrifice, and dedication is a gift that left an indelible mark on Lewis. From the time their son Solomon and daughter Isabella were small children, Crystal and her husband, Brian, spent extensive time on the road, traveling coast to coast while Crystal toured, sharing the inner workings of show business with their children along the way. But as Crystal's celebrity continued to rise, the demands on her career meant more time away from home, rapidly deteriorating the young family's connection and prompting a much needed change to their way of life. Crystal and Brian had come to terms with the fact that their fast-paced Southern California home was not conducive to the family-focused lifestyle they had been longing to create.
Drawing on the positive memories and impressions from a past vacation, the family headed northeast into the dramatic change of scenery of Montana. After giving home school a trial run, they adopted it as a permanent shift in their children's upbringing, as the move to prairie life proved to be the missing link for the kids, their education, and the entire family to experience the kind of connection they had been looking for.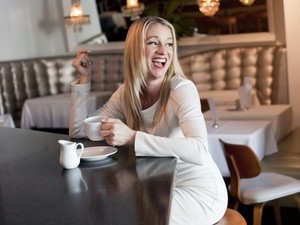 "I look back on those years with fondness," Lewis says, recalling the complicated but fulfilling transition from city to country life. "I enjoyed the process of teaching them, and in turn, was able to remember many of the things that I once learned in school."
With its overwhelmingly positive impact on her own family, Lewis has since become an advocate of homeschooling as a way of life, openly promoting the unique benefits of the more traditional educational setting.
"When we began, I remember many people having concerns about a child's socialization in learning at home versus a traditional school. But I believe that socializing with only people of your own age is not representative of the realities of life."
She continues, "After those first few years on the road, we wanted to spend the remaining time we had with Solomon and Izzy being able to pour into their lives. Moving to Montana afforded us that opportunity."
The family of four embraced their new country life as lovers of horseback riding and the beautiful "Narnia-like" winters, blanketed in snow. After completing high school, home-schooled in one of the country's least populated states, both Solomon and Isabella revisited the lifestyle of their early childhoods, pursuing careers in the Christian music industry where their mother has so long been a staple artist for fans and producers alike.
Meanwhile, back on the ranch, Crystal and Brian continue to thrive in Montana, confident that the intentional slowdown was a wise move. While many in the industry might consider it a risk to relocate so far from the entertainment hub of Southern California, Lewis maintains that relocating her family was one of the best decisions she's ever made.
"Most thought that I was shooting myself in the foot. Many also said, 'I hope you know what you're doing,' and wondered if I might be intentionally throwing away my career," she says. "But moving to Montana wasn't about career; it was about us choosing to put our family and children before our work."
At the same time, there is no question that Lewis sometimes struggled with the direction of career and her identity as an artist, often doubting God's plans for her. In her search for certainty, she turned to 2 Timothy 1:7, "For God gave us a spirit not of fear but of power and love and self-control." Through claiming this as her life's verse and surrendering her fears to God, Lewis was able to battle and ultimately defeat her emotional turmoil, doubts, and worries about the future.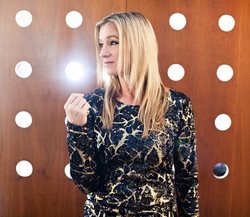 Reinventing her image through social media, Lewis has managed to reemerge as an artist and popular figure in Christian music, utilizing the changes in technology to produce, market, and rebrand herself, all from the comfort of her home ranch. But even with over 30,000 Twitter followers, close to 40,000 "Likes" on Facebook, and more than 13,000 followers on Instagram, Lewis recognizes the distinction between using social media as a career move, and letting it become a distraction.
"There is a delicate balance between needing to build a brand and a business, and needing to be 'followed' and 'liked,'" she says. "I've learned to approach social media with a 'care less about what doesn't matter and more about what does matter' attitude."
With her return to a full-time music career, Lewis is primed to begin the next chapter in life. Her latest project, simply titled Crystal Lewis (just released on Metro1Music), is both a masterfully crafted reintroduction to some of Lewis' best works, and a reflection of her trust in an ever-faithful God. For fans, this homespun new release, from an always humble industry veteran, is just what they've been waiting for.