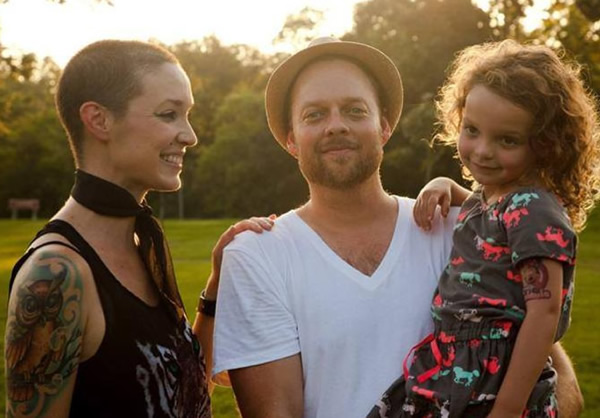 From her early days as a member of Chasing Furies to her solo work on albums like Currents, Sarah MacIntosh has remained a compelling voice and songwriter for over a decade in the industry. Now her latest turn features equally impressive talents for a meaningful cause that should resonate with fans on multiple levels.
A Thousand Champions is Sarah's latest musical outlet, a collaboration that includes JT Daly of Paper Route fame and Hillsong's Mia Fieldes, and a new Kickstarter campaign allows fans to help the MacIntosh family add another precious member through adoption. Sarah recently caught us up on the new addition(s).
CCM: Can you tell us about the genesis of A Thousand Champions?
Sarah: Recently I have been doing a lot of songwriting for other people by building tracks—drums, keys, bass, etc.—and realized that I haven't ever written for myself in that way. Usually I sit down with my acoustic guitar and then let a thought unravel into words and melody, but for A Thousand Champions I decided I wanted to do things in a completely different way.
It has been my intent, for some time, to work with some of my favorite people on a side project, so I decided that I would begin by building tracks that I would then send to my good friend and musical magician JT Daly. He then works on the tracks a bit more before giving them back to me to start writing words. After I write the bulk of the words for the songs, I brought in another good friend and word wizard, Mia Fieldes, who then sharpens and brightens the thoughts I have put to paper. Finally I track the vocals and send it all in to Jonny, the finalizer. He trims the fat and brings out the lean song that is the voice of A Thousand Champions.
CCM: Part of this project is also about adoption for you and your husband, correct?
Sarah: Jonny and I have a 5-year-old little girl named Scarlett, and the three of us have been wanting to add to our family for some time. When we saw this project taking shape, we realized that this was a way that we could help provide financially for this adoption. We have seen many people having yard sales for their adoptions or churches having bake sales to help a family in their congregation wishing to adopt, and I suppose that this Kickstarter is our musical form of a yard sale, but instead of knickknacks and shoes, we are selling words and creative, melodic hooks. Pretty much the same, right?
FOR MORE INFORMATION, VISIT HERE