BELOW: Read Colton Dixon (from May 1)
JUMP TO: NEEDTOBREATHE (from May 15) // Mat Kearney (from Mar. 1) // Josh Wilson (from Aug. 1)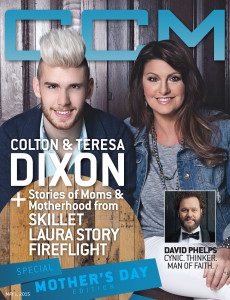 HOME BASE, A STRONG FOUNDATION  //  Mother's Day Special: Colton Dixon's mom, Teresa, couldn't be more proud of her son, but had other plans in mind for his future… (by Caroline Lusk)
Upon greeting Colton Dixon, whose hair was higher than ever, I shook hands with the guy standing next to him—with camera slung around neck—assuming he was the photographer, until he kissed Colton's mom. It was clear this was Michael Dixon and this was really a family outing disguised as a photo shoot.
As Colton, his parents, and I gathered for a post-cover shoot snack, I asked if the family entourage scene was typical with the Dixon's.
It is. So, how do they do it?
The short answer is that it's all they've ever done. From the baseball fields to the stages, this family is a living, breathing, and solid foundation for one another. In fact, that's what led Colton to American Idol in the first place. It was the constant encouragement from his younger sister Schyler that led to Colton's audition.
Even as Colton's career has reached stratospheric levels, however, not much has changed regarding family. They have continued to remain side-by-side through the years.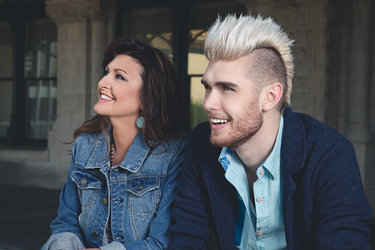 "Everybody asks if we are always together," says Teresa. "This is the norm for us. The kids have been performing and leading worship long before gracing the Idol stages. It's really all the same, just on a bigger level. It's been awesome to experience them living their dreams.
"The music is great, but it's really the icing on the cake for me. Who they are as individuals is what matters. They haven't given me anything to worry about. We've been very blessed as parents and Colton and Schyler have made our jobs pretty easy."
As Teresa glances across the table at her son, it's obvious that her sentiments are void of any pretense or fabrication. This truly is a family who does almost everything together, and one that is certainly thankful for their many blessings.
"We're not perfect — and we're definitely not saints," adds Teresa. "We do love each other and, as a family, we collectively take a stand for Christ. We're grateful for the lives [Colton and Schyler] have been able to live and for the way God continues to shape their journeys."
"My parents have always been there," Colton shares. "They're my comfort in the chaos and the one thing that's always familiar. I think Idol came at a great time for us, but it also presented many challenges. "I was coming into manhood and beginning to experience life on my own. At the same time, some very unique and life-altering decisions were forced upon me. When I needed to come up for air, I knew that I could always count on them. Through the Idol days, there were some things going on that didn't always fall into line with who I knew I was—definitely some hurdling moments."
"But that hurdling moment was short-lived for him," Teresa quickly interjects. "I know as a kid I went through a lot of hurdles and it took me a long time to discover who I was. In some ways I'm still discovering—to a degree I think we all are. Even though I'm a parent, I am still human. We do make mistakes, but we make the effort to keep God at the center of our family."
That effort is paying off… JUMP TO FULL ARTICLE from the May 1, 2015 edition of CCM Magazine
---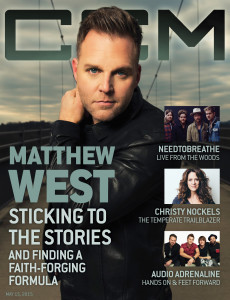 INTO THE WOODS  //  NEEDTOBREATHE takes fans into the backwoods of Tennessee on their first-ever live album… (by Lindsay Williams)
Girl Named Tennessee
Last September, nearly 5,000 people showed up at The Woods at Fontanel, an outdoor amphitheater located just outside of Music City on the former property of country legend Barbara Mandrell. The stage is literally nestled deep in the woods with concert attendees cocooned inside the intimate space by a forest of trees.
"I think the outdoor setting really suits us well. We love playing an amphitheater setting or a festival,"remarks Bear. "It was one of the most," he pauses, "magical nights that we've ever been a part of as a band."
NEEDTOBREATHE took the stage just as the sun was setting and played long into the moonlight with a set that showcased reimagined versions of fan favorites and new selections. The album's cover art encapsulates the rustic, southern charm of the evening with a drawing of an owl, illustrated by Bo, who often designs album covers, T-shirts and posters for the band.
During the comprehensive 17-song set, which featured an acoustic version of the band's current single "Brother,"the group covered "Float On" from Modest Mouse and ZZ Top's "Waitin' On The Bus (Have Mercy)," among others, displaying their diverse musical tastes. In addition, there were plenty of full-on jam sessions, culminating in a confetti-filled moment on "The Outsiders." Bear credits the crowd's electric energy and the unique venue as the primary keys to making the evening truly spectacular.
"It was pretty inspiring to watch, and I think that inspired some big moments in the show," he says. "I just think that atmosphere took everybody out of their element. We joked with the crowd that we had brought them out there to steal their cars. It felt like we were off from the rest of the world, and were having an experience that was completely separate from the rest of our lives."
The band always lets the atmosphere and the reaction from those in attendance set the compass for their live performances, making each concert a one-of-a-kind experience. The set list is intentionally kept loose, leaving room to improvise and ride on the highs and lows of the night.
"I think fans can really tell when you're pressing them a little too hard or you're selling them too early. Our theory is that we always try to play to the audience that we're in front of and let them dictate how the show goes," Bear reveals. "Over time you learn to let the show come to you and not force the issue. Where the show takes off might be a different song each night. It might be the second song or the tenth song, even.
"A lot of times, we work on leaving room in the songs themselves to go different directions," he continues. "Sometimes that gap might be a minute of music, and it might be ten minutes of the night depending on how the crowd's reacting to it and what we're feeling. That really keeps things fresh for us. I think that was kind of a brave thing to do early on, but we've gotten to where we really enjoy that part of the show the most."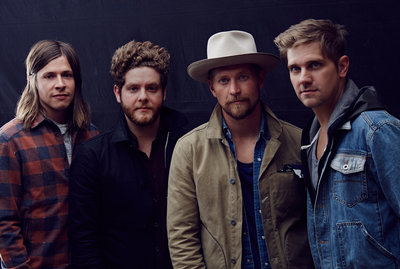 Something Beautiful
NEEDTOBREATHE's live shows do nothing if not whet fans' appetites for new music, and those hungry for more will be happy to know the band is already writing for their next studio record. While Bear can't find the words to fully articulate the eclectic, left-of-center mix of sounds emanating from current writing sessions, he does confirm the members have been writing together as a band, something that hasn't happened since the landmark album that landed them a tour spot opening for Taylor Swift in 2011.
"I think I would probably liken it the most to the process of writing before we were working on The Outsiders. We were really tight-knit in that period of our lives and spent a lot of time on the bus together working on songs. That's kind of how we feel now," reveals Bear.
Having endured their own personal wasteland, these "outsiders" have come out on the other side humble, joyful and thankful for the current season. "I think we are more confident and happy with who we are as people and more grateful [for] the situation we're in than ever, and so things are coming much more easily these days. Even hard work is coming much more easily," Bear contends. "We get along so much better now than we ever have. That just translates to us being confident onstage and really enjoying what we do now… I think fans can tell how much we love what we do…" JUMP TO FULL ARTICLE from the May 15, 2015 edition of CCM Magazine
---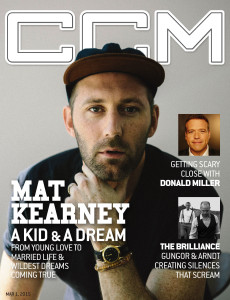 STILL GETTING CLOSER TO LOVE  //  In a little over a decade, Mat Kearney went from an underground, hip-hop inspired singer/songwriter from Eugene, Oregon to one of Nashville's premiere, boundary-blurring performers… (by Andy Argyrakis)
Though it's not as recent of a life development as his folks' cross country move, Kearney got married in 2010 prior to his last record release Young Love, which basically traced the several stages of falling in love with his eventual wife. And now that the couple's been married for half a decade, they've expanded upon that initial honeymoon phase with a conscious approach towards collectively digging into their pasts in the hopes of sharpening one another in the present.
"How are we trying to grow as human beings, in the way we treat each other and loving each other better? What's the junk from my past that I'm trying to work through? What's the junk you're working through?" he wonders, tying it back into this overarching season of retracing his steps. "[If Young Love was] the romantic butterflies in your stomach falling in love record, [Just Kids] is the reality of challenging things in your marriage and wanting to become a better person and someone pointing out the stuff in you. All of a sudden, you live with this mirror that really reflects the issues of your life that your roommate wouldn't bug you about, you know? So there's definitely that kind of 'okay, this is something bigger than me and I need help.'"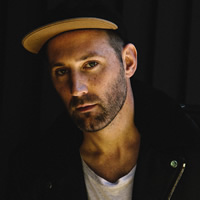 In the quest for the constant refinement, Kearney keyed into the idea of spiritual surrender at home, which naturally played into his latest songwriting (particularly noticeable during "Air I Breathe" and "Let It Rain"). "I think when you get to the end of yourself, it can be challenging, but that's the place where you come to that moment of surrender," he continues. "I can't answer my own problems and I can't save myself. I think a lot of those songs are written almost like a prayer. Me or the characters in the songs have reached the end of their control and their own ability and their own strength."
One specific instance that's shifted behind the scenes is Kearney's ability to balance creative and personal identities, thanks primarily to some caring advice from the love of his life. "I have this music, this art that I love and it's why I feel like God put me on this earth, but [sometimes we] tend to take the things that we love and our greatest strengths and it can kind of become too important," he humbly admits. "And I feel like she really came into my life and challenged what music is to me and made it a much healthier thing. If I showed up tomorrow and was like 'hey, I want to be a soccer coach at a high school' she'd be like 'okay, that's cool. If that's what you're supposed to do.' So I think there's like a real healthy place of knowing Mat Kearney the performer, business man, musician, and me as a person, a husband, a friend, a member of our community, child of God. There's something about her that helps separate all of those things for me."
Communication has also been a major player in their budding relationship, which even made it's way to the record as a completely unexpected surprise throughout the fittingly titled "The Conversation." After a heated argument (that Kearney now finds so trivial he can't even remember its root), he stormed off towards a songwriting session with the hope of translating those frustrations into lyrics, only to have his wife walk in a little while later and turn the tune completely upside down… JUMP TO FULL ARTICLE from the Mar. 1, 2015 edition of CCM Magazine

---
DARED TO MOVE  //  Fresh off the release of his brand-new album, That Was Then, This Is Now (Sparrow/Capitol CMG), singer/songwriter Josh Wilson is forging ahead—despite his ongoing battle with social anxiety and panic attacks—and he's making his life on stage, at home and everywhere in between a mission field… (by Lindsay Williams)
Rescue Missions
"To be able to do another [record] is always an honor," shares Wilson who's been signed to Sparrow Records for nine years now. For this particular studio album—his fourth full-length—he adds, "I had a lot of bouts of writer's block, and, I'd say, a decent amount of discouragements along the way just trying to find these songs."
The mandolin-laced title track, centered around the transformation that occurs when we encounter Christ, took on an entirely new meaning for the singer/songwriter when he performed at a graduation ceremony at a local rescue mission in Nashville, a place where he serves and performs often. The ten men gathered had taken part in a year-long recovery program and were transformed from the men who had walked through the same doors of the rescue mission twelve months prior.
The before-and-after picture Wilson paints in his song became flesh when he saw the living, breathing examples of the graduates sharing their personal stories of redemption and restoration there in front of him.
"They showed a 'before' [photograph] of the day they came in to the mission—drug and alcohol addicted, with no hope in their eyes," Wilson recalls. "So a year later, they're standing here giving a testimony of what God's done in their lives in a suit, poised, smiling, hopeful—a literal 'before' and 'after' picture. Their story is everyone's story. It's just a little easier to see it in their lives because they had previously come from the
street."
Through that experience, Wilson realized the title of his new record, and the songs therein, actually give context for a wide variety of people's stories, including his own. "The album title applies to so many things," he continues. "We are a new creation. We are dead before we meet Christ; we are alive now that we know Him. There is a big change when we come to know Christ. We've gone from death to life."
Neighborhood Missions
In addition to serving regularly at the Nashville Rescue Mission, Wilson and his wife, Becca, also give their time and talent to an area chapter of Capernaum, Young Life's program for special needs kids. Ironically, the couple stumbled upon this new mission field accidentally.
The day they moved into their current neighborhood, Wilson recalls pulling the "For Sale" sign out of his front yard and feeling the presence of someone directly behind him. He turned around to find a young man on a bike
grinning from ear to ear. "We could tell pretty quickly he was someone with special needs," Wilson shares. His name is Jay. "We've been in that house almost five years now, and I'd say he's at our house every other day."
Upon getting to know their new neighbor better, the Wilson's soon found out Jay is 26 and lives with autism and cerebral palsy but can get around on his bike, which he uses to scour the neighborhood to talk with people. "He loves gadgets, so he loves my studio," Wilson adds. "He loves to see all the gear and plug stuff in."
It was through Jay that the singer and his wife were introduced to Capernaum. The Young Life club meets every Monday night and provides dinner, Bible study and worship for kids just like Jay. "It's around 30 or 40 kids of all ages and ranges of special needs. It's one of the most beautiful things I've seen because they're all so joyful," Wilson says.
He and Becca have now been to several of Capernaum's camps. Wilson often leads worship for their Monday night clubs and has also hosted multiple tour fundraisers to support the organization. Meanwhile, Becca is helping to start a new Young Life club for kids too old to attend Capernaum after seeing a need to help them obtain jobs and integrate into adult life. The organization has become an unexpected blessing for both of them.
"We went because we met Jay. He literally came to our door," Wilson laughs. "We weren't necessarily looking for it, but we've fallen in love with that organization…" JUMP TO FULL ARTICLE from the Aug. 1, 2015 edition of CCM Magazine