Ask any true NEEDTOBREATHE fan about the band, and they'll tell you two things:
1. The Outsiders is their "career"album.
2. You have to see them live.
NEEDTOBREATHE has had fans and critics alike talking since their debut in 2006, the same year they appeared on the cover of CCM Magazine for the first time, an unprecedented feat for a then unknown band from South Carolina. Ever since, the group has managed to be a much buzzed-about topic in music circles — often evoking praise for their superior musicianship and sometimes igniting controversy with their mainstream appeal. But even the naysayers seem to agree on one thing: the band's live show is simply unmatched.
Fans have been clamoring for a live record for years, and last month, one year following the release of the band's highly-acclaimed Rivers In The Wasteland (Atlantic/Word), NEEDTOBREATHE released, Live From The Woods, a recording that chronicles not only a one-of-a-kind concert from last fall but also showcases their undeniable musical talent.
In truth, NEEDTOBREATHE—comprised of Bear Rinehart (lead vocals, guitar), Bo Rinehart (guitar, background vocals), Seth Bolt (bass, background vocals) and Josh Lovelace (keys, background vocals)—has wanted to make a live album for some time. In fact, they've been recording every show for roughly the last five years. Much like a winning team scrutinizes their moves after every game, front man Bear Rinehart—who served as a wide receiver for the Furman University football squad during college—says the band diligently studies their "plays"after every performance.
When their most recent tour in support of Rivers In The Wasteland, ended, it was time to comb through the playbook. "We circled a bunch of dates on the tour and said, 'OK, what were the best nights that we enjoyed the most? Where did the crowds seem like they were the craziest?'That kind of thing,"explains Bear. "We've tried to make live records before, but we never felt like everything lined up. We just didn't play well enough; the set list wasn't right, or something would be off about it. We really wanted to make this first one a good representation of the band, and Nashville just lined up perfectly."
Girl Named Tennessee
Last September, nearly 5,000 people showed up at The Woods at Fontanel, an outdoor amphitheater located just outside of Music City on the former property of country legend Barbara Mandrell. The stage is literally nestled deep in the woods with concert attendees cocooned inside the intimate space by a forest of trees.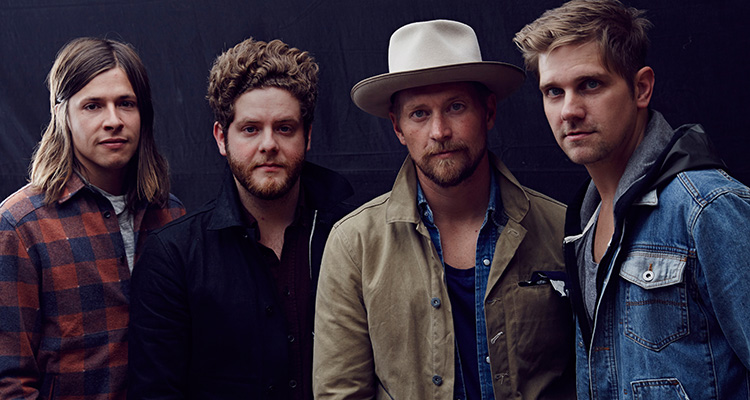 "I think the outdoor setting really suits us well. We love playing an amphitheater setting or a festival,"remarks Bear. "It was one of the most," he pauses, "magical nights that we've ever been a part of as a band."
NEEDTOBREATHE took the stage just as the sun was setting and played long into the moonlight with a set that showcased reimagined versions of fan favorites and new selections. The album's cover art encapsulates the rustic, southern charm of the evening with a drawing of an owl, illustrated by Bo, who often designs album covers, T-shirts and posters for the band.
During the comprehensive 17-song set, which featured an acoustic version of the band's current single "Brother,"the group covered "Float On" from Modest Mouse and ZZ Top's "Waitin' On The Bus (Have Mercy)," among others, displaying their diverse musical tastes. In addition, there were plenty of full-on jam sessions, culminating in a confetti-filled moment on "The Outsiders." Bear credits the crowd's electric energy and the unique venue as the primary keys to making the evening truly spectacular.
"It was pretty inspiring to watch, and I think that inspired some big moments in the show," he says. "I just think that atmosphere took everybody out of their element. We joked with the crowd that we had brought them out there to steal their cars. It felt like we were off from the rest of the world, and were having an experience that was completely separate from the rest of our lives."
The band always lets the atmosphere and the reaction from those in attendance set the compass for their live performances, making each concert a one-of-a-kind experience. The set list is intentionally kept loose, leaving room to improvise and ride on the highs and lows of the night.
"I think fans can really tell when you're pressing them a little too hard or you're selling them too early. Our theory is that we always try to play to the audience that we're in front of and let them dictate how the show goes," Bear reveals. "Over time you learn to let the show come to you and not force the issue. Where the show takes off might be a different song each night. It might be the second song or the tenth song, even.
"A lot of times, we work on leaving room in the songs themselves to go different directions," he continues. "Sometimes that gap might be a minute of music, and it might be ten minutes of the night depending on how the crowd's reacting to it and what we're feeling. That really keeps things fresh for us. I think that was kind of a brave thing to do early on, but we've gotten to where we really enjoy that part of the show the most."
More Heart, Less Attack
It's evident the band members are having a good time onstage, emitting a contagious energy from start to finish. The Rivers In The Wasteland tour was especially pivotal for the band, considering the album's recording process was wrought with tension and uncertainty. After months of fighting and mounting competition, the Rinehart brothers took a six-month hiatus at home in Charleston, during which they didn't speak.
As Bear recalls on Live From The Woods, when the siblings came back together, they agreed that they had to be brothers first before they could be band mates; otherwise, the band couldn't continue. The ensuing songs that formed their new studio record became some of the most vulnerable of their career to date, and that transparency translated to the stage the night Live From The Woods was recorded.
"We constantly are trying to remind ourselves of the stories of why we wrote the songs and what we're doing up there," Bear maintains, adding that he and his cohorts desire each concert to be a personal dialogue with fans. "We get to meet people before the shows, and [we] try to integrate that into what [we're] doing onstage," he says. "That seems obvious, but I think over time, artists forget that from night to night, and it feels like a performance and not like a conversation, which is really what we're trying to have with the audience."
They're planning to keep the exchange going throughout the spring and summer on the Tour de Compadres, a multi-artist event hitting mostly outdoor venues, including the infamous Red Rocks Amphitheater in Colorado, through August. Ben Rector (first leg only), Switchfoot (second leg only), Drew Holcomb & The Neighbors and Colony House will join NEEDTOBREATHE on the tour.
"We honestly just wanted to give our fans what we thought they would want the most, and selfishly, we loved the idea of being on tour with some of our best friends," shares Bear. "All the bands' music has influenced us, but also the people in those bands we really love to be around."
Four bands on the stage every night should make for a logistical and financial nightmare. However, Bear says these challenges were overcome thanks to the tight bond and genuine camaraderie shared between the groups. The artists will share gear and stage time, and each artist has agreed to take a lesser cut in order to keep the cost of ticket prices down.
"That's a credit to all the bands that are on the bill taking less money in order to do it—to play for the team they like," says Bear. "That's something I'm really proud of with this tour that we were able to accomplish. It's only going to work if we're friends and we work together to make it happen."
The tour lends itself to natural collaboration, which will inevitably result in some surprises and YouTube-worthy moments. Meanwhile, it seems the team of compadres they've assembled is quite the mutual admiration society. "I respect the true north of [NEEDTOBREATHE's] artistic work," comments fellow compadre Drew Holcomb. "They don't compromise and seek out things only for fame. They really are in it for the music and for the fans, and that is a rare trait."
Something Beautiful
NEEDTOBREATHE's live shows do nothing if not whet fans' appetites for new music, and those hungry for more will be happy to know the band is already writing for their next studio record. While Bear can't find the words to fully articulate the eclectic, left-of-center mix of sounds emanating from current writing sessions, he does confirm the members have been writing together as a band, something that hasn't happened since the landmark album that landed them a tour spot opening for Taylor Swift in 2011.
"I think I would probably liken it the most to the process of writing before we were working on The Outsiders. We were really tight-knit in that period of our lives and spent a lot of time on the bus together working on songs. That's kind of how we feel now," reveals Bear.
Having endured their own personal wasteland, these "outsiders" have come out on the other side humble, joyful and thankful for the current season. "I think we are more confident and happy with who we are as people and more grateful [for] the situation we're in than ever, and so things are coming much more easily these days. Even hard work is coming much more easily," Bear contends. "We get along so much better now than we ever have. That just translates to us being confident onstage and really enjoying what we do now… I think fans can tell how much we love what we do."