It's not everyday a new band comes onto the scene and scores immediate and sustained radio play. But then, it's not everyday that a band like Citizen Way comes along. The group, from Southern Wisconsin, met at Judson University, felt God's hand upon them to make music together and the rest, as they say, is history. Their debut project on Fair Trade Services, Love is the Evidence, reveals a polished sound, a growing faith and a band that is poised to make waves for years to come. CCM caught up with the newcomers to learn more about the record, the sound and how they got where they are now!
CCM: What does 'Love is the Evidence' represent to you?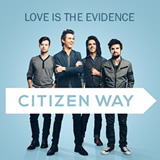 BEN CALHOUN: LOVE IS THE EVIDENCE is the theme from the song "Evidence," which I wrote with my friend, Jeff Pardo. It defines the record and Citizen Way as a whole. We are citizens of the kingdom of God following in the way of Jesus. Our name, that song and this record all point to verses like 1 John 4:19: "We love because He first loved us." As Christ followers, our focus is to be like Jesus in every situation. Jesus spoke with authority because He could back it up with his actions. People saw the evidence of His love and we hope to do the same.
CCM: How are you hoping to impact your listeners? What message are you hoping to impart with this new record?
BC: Our goal is simple: Make great art that encourages people and inspires them to walk with Jesus. That philosophy directs our lives off stage, on stage and at home. These songs are our lives put to music and we've learned that only when we walk with Jesus and draw inspiration from God's word will we have something valuable to relay to listeners. Galatians 6:10 is a verse I like to use in tandem with this philosophy — "Therefore, as we have opportunity, let us do good to all people, especially to those who belong to the family of believers."
CCM: Who produced the forthcoming album? What was that experience like?
BC: Seth Mosley (newsboys, Audio Adrenaline) produced and he is just plain ol' AWESOME! He's efficient and patient in the same breath and he cares about people more than the product. He helped write and mix three songs on this record, all of which are unique and powerful. We had so much fun making this record!
CCM: The record sounds amazing. Apart from the actual production, what kind of gear do you play to achieve the 'Citizen Way' sound?
BC: We love to rock classy, good looking, dependable gear. I play Fender guitars/ amps and they are color coordinated to match my temperament, ha! I have a copper colored Gibson Firebird for when I need to make it LOUD and a Vox Cambridge Reverb from 1964 that my friend Matt gave to me.
David plays Pearl drums currently; and has an affinity for Ludwig drums and Vic Firth sticks as well. In fact, I found a Ludwig snare drum from 1948, which he named "Penelope," and you can hear her throughout our new record. Josh plays Martin acoustic guitars. Listeners might be interested to know that he used to be our drummer endorsed by the Minnesota drum folks at Risen Drums! Ben Blascoe proudly rocks and is an official endorsee of Lakland bass guitars. You can see a picture of him with his 5 String at www.lakland.com!
CCM: Chances are several burgeoning musicians will be looking to you guys in the years to come as they develop their own styles. Who have you looked to for musical influence over the years?
BC: David's favorite band is P.O.D. and he's a great hip hop and jazz drummer. One of Ben Blascoe's favorite bands is North Mississippi All-Stars. Every once in a while you'll see him playing upright bass. Josh has been to a few Coldplay concerts and knows every record well! He has great taste in music and is very good at finding new bands for me personally to be inspired by. My favorites of all time are PFR. Steven Curtis Chapman and Phil Keaggy.
I remember going to a Steve Taylor, Big Tent Revival and Bride concert when I was 14 and thinking, "This is it. That's what I want to do." The Lord really got a hold of me in my teenage years with Christian music and I knew even back then that serving in Christian music was what I wanted to do. I've never lost that desire and we are all quite proud to be a part of this family!