Praying For An Awakening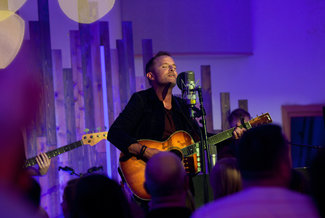 In the modern church, Chris Tomlin's name has become synonymous with "worship music." For nearly two decades, the Texas native has recorded, written and performed songs designed to lead the spiritual masses in musical communion. Perennial favorites like "How Great is Our God," "Indescribable" and this year's already number one-selling single, "Good, Good Father" have cemented Tomlin in the hymnals of the twenty-first century church while propelling him to the top of the Christian music charts.
And Christmastime, Tomlin says, presents congregations with an especially poignant opportunity to reflect through song and verse—a unique season where music especially offers our spirits a "chance to connect again." Gifting the corporate-singing church with his second order of Advent worship on ADORE: Christmas Songs of Worship (sixsteps), the carefully articulated worship leader sits down to discourse on worship at Christmastime in a fireside lesson on carols and communion.
CCM: There is a lot of collaboration on this record. All Sons & Daughters, Lauren Daigle and Kristyn Getty. Why were guests important on this record? And how does the collaborative effort aid you in your aim of leading worship—of facilitating communion—through music?
Chris Tomlin: I am honored to have each of these guests on the album. And Crowder is even featured on a deluxe edition [which is available at Target] with a pretty fun and different take on "We Three Kings."
There is so much strength to be gained with the right collaborations. All of these happened very naturally and nothing was forced. I was just looking for what was a good fit for each song. Was there something or someone that would bring an added touch that I never could on my own?
CCM: Where some live worship records still sound largely like in-studio efforts, the natural texture of live voices is very prominent and poignant on Adore. I especially find this true in the tenderness of "Silent Night," transporting our senses to the sights and sounds of candlelit Christmas Eve services. Recording purists would hesitate to leave "live" voices so exposed when polishing the final effort. What was the design and meaning behind keeping the corporate singing so prominent on the final recording?
CT: Yes, everything you mention here was very intentional. You definitely get the feel that you are in midst of a gathering of people singing these songs of worship to God. I love that the record, for the most part, doesn't focus on a "singer," but the point is to find yourself joining in with everyone else.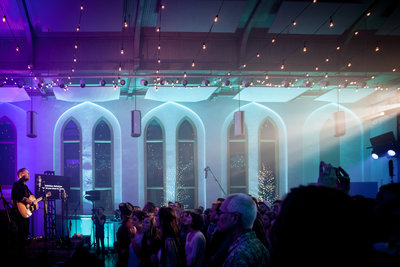 CCM: Your last Christmas record, 2012's Glory in the Highest, was recorded live at Nashville's historic Ocean Way studios—the same location for Adore. Why "live," and why Ocean Way again? 
CT: Like Glory In The Highest, I wanted this record to capture the church singing these songs in worship. Ocean Way is a legendary studio in Nashville that was once a church. So it was so beautiful to fill what is now a studio room with hundreds of voices singing praise to God.
Above all, that's what I wanted this record to sound like—to capture the people, voices singing these songs written around the birth of Jesus.
CCM: Christmas is a poignant season. Culturally, we seem to be more open to spiritual matters, sensitive to our neighbors needs and transparent in our humanity. Why do you think Christmastime promotes this connectedness and unity?  
CT: To me, one of the main reasons Christmas seems to be so poignant is that it causes the world to slow down for a moment. It is so much harder to be connected and have your heart open to what really matters when you are running all the time. Christmas manages to slow us down for a moment, to contemplate what this season is all about. When you get past all the demands of shopping and things like that, Christmas offers your spirit a chance to connect again.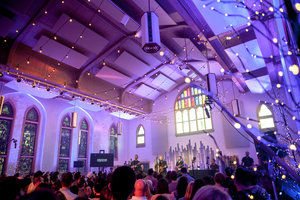 CCM: Similarly, Christmas music holds a universally sacred space in the world's celebration of the holidays, even with its explicitly Christian content. On tour at Christmastime, have you experienced this to be true? How do you find leading worship especially impactful at Christmastime?
CT: No doubt. Christmas opens the heart like no other time. I love leading so many of the great carols of Christmas on these tours. The lyrics of these songs that we have sung for most of our lives are among the best ever written in any time or genre of music. There is such a simplicity and purity about leading worship during Christmas that is undeniable as well.
CCM: When we congregate to worship, we gather in the midst of experiencing many hardships, many issues. In a recent Called Magazine cover story featuring you and your wife, Lauren, the two of you talk about wading through difficult seasons in your own marriages. 
The advent of the holidays does not eliminate our pain. In fact, it can often exacerbate it. So for you, how does Christmas and Christmas music play an important role in shaping your perspectives in the midst of real and present heartache? And how do you think it transforms and opens up the perspective of the church as you lead corporate worship around the country and at home at Christmastime? 
CT: The story of Christmas is God coming to earth in the form of a man, Jesus. This may be the greatest power and grace that Christmas holds. There was no palace or parade, but a stable. The invitation first went to the lowly, the shepherds. Jesus was born into a world filled with pain and heartache. This was God's tangible way of saying that He understood and saw the suffering and pain of the world, and would choose to take it all upon Himself.
The announcement of Christmas by the angels was "peace of earth." Jesus would make a way for every heart to find peace with God once again. This is what we sing about on the record Adore. There is a lyric in the song, "Noel," that says, "Come and see what God has done." For every night of the tour and every time this music is heard, I pray it awakens the wonder of what God has truly done for the world.