Chas Tackett Story Behind the Song 'Through the Night'
Set out with a conviction to redefine the CCM Landscape, 23-year old singer/songwriter and producer, Chas Tackett, aims to push the boundaries of creativity by combining authentic, faith-inspired lyrics with irresistible mainstream hooks. The song "Through The Night" serves as a breakthrough to a season where brokenness and depression fell to faith. The main inspiration was from a passage in Isaiah 54:17, "No weapon that is formed against you will prosper." "Through The Night" featuring Shama Mrema debuts on every major streaming platform January 31st.
The story behind how Chas Tackett's new single, "Through The Night" featuring Shama Mrema, became a reality: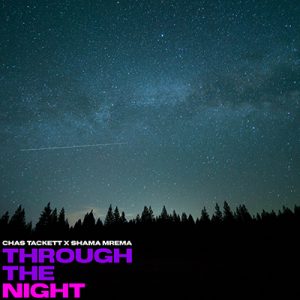 I was living in Fort Worth in the fall season of 2018 when I felt the Lord wanted to make a monumental shift in my life that I wanted to step into. This song came out of that goal and ambition, but at a point I just sat on it because I knew I wanted to wait on the Lord's timing for it. Months later, I moved up to Tulsa, OK and was offered an incredible opportunity to pursue sound design and music composition with my uncle, Stephen Tackett at The Audio Planet. One of the amazing things that came about this past year, 2019, was the opportunity to work with some truly incredible creatives on the Silly Song revamps of the new VeggieTales Show for TBN—this is where the Tulsa Dream Team formed. Shama and I met during those sessions, along with all the people in these pictures who made the opportunity possible (Stephen Tackett, Eric Newman, Justin Streck, Shama Mrema and Dru Simmons). The amazing thing about that team and experience was that none of us really knew each other, yet it was like we had known each other since 3rd Grade Sunday School class.
One night after we wrapped a session, Shama, Dru and myself all sat down at a Buffalo Wild Wings down the street when Shama asked me, "So what does Chas Tackett want to do next year?" and aside the answer of "I'm already doing it, getting to work with the most insanely gifted creatives I've never met until now," a practical answer came to mind; "I want to put out music that really reaches and impacts people in a way that might potentially alter the CCM landscape." Those were big words, but the desire was there to release songs that took away the gray area from the Christian and mainstream pop music worlds. I think we all wanted to find a way to seemingly take what we did with VeggieTales and make it first and foremost a song that makes you go "WOW, I wanna hear that again…" and as you listen closer, you start to unravel a faith-sound that reaches beyond its own style—that was the idea, at least.
Before we left, I remember we all wanted to hear where the song was and take it from there. After that first listen, I knew I wanted to get Shama on the track because I knew he would be able to bring such a unique fingerprint to the song that didn't previously exist. A few months later, I got a text from Shama with the rap overlayed with the demo I sent him previously. When I first heard it, my jaw dropped and out loud I said, "This is it." It was a perfect fit to the theme of the song, God taking us into His will one step at a time. Within that month, we underwent a complete revamp of the song, fully mixed and produced in our off times after work, and it wasn't until the end of 2019 that we knew this song needed to go beyond us.
That was my hope and prayer from the very beginning—in God's timing, that the songs he had birthed into my heart would breathe new life from other creatives and become something that changes everything; for us and for the world. If the spotlight is on us, then we want God to be the focal point of it all.
We both hope and pray this marks a new chapter for us and leaves a lasting impression for everyone, everywhere. —Chas Tackett