Launching his career more than two decades ago as a lead vocalist for GRAMMY®-nominated genre giants NewSong, Charles Billingsley has since headlined more than 3,000 concerts, released 24 recordings as a solo artist and garnered seven #1 Inspirational radio hits. Also a sought-after worship leader who oversees the music ministry at Lynchburg, Virginia's Thomas Road Baptist Church, he is an artist-in-residence and instructor at Liberty University; hosts a daily syndicated radio broadcast, "Words On Worship;" and regularly appears at such popular events as Women of Joy, Dr. David Jeremiah's Stand Up Tour, Gridiron Men's Conference and Celebrators Conference, among numerous others.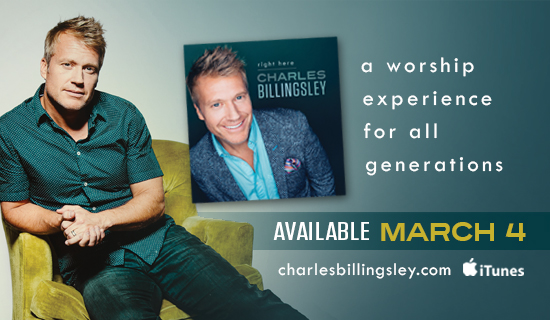 "With every record, I try to push it just a little further than I did before, stylistically, without compromising the message at all," says Billingsley. "But I also look for songs that people will sing—that they can drive down the road worshiping the Lord with, but also sing congregationally."
This record is no exception. Produced by GRAMMY® Award-winners Seth Mosley (TobyMac, Newsboys) and Mike "X" O'Connor (for KING & COUNTRY, Matthew West), and Dove Award-winner Keith Everette Smith (Karyn Williams), the project boasts contributions from such top songwriters as Matt Hammitt, Michael Farren, Mia Fieldes, Travis Ryan, David Leonard and Krissy Nordhoff, among others.
Highlights of Right Here include the vertically-focused anthems "Victory (The Blood of Jesus)," "Hallelujah for the Savior" and "Jesus You Are;" the multi-generational "There's Nothing My God Cannot Do;" Billingsley's take on the Delirious? hit "Majesty (Here I Am);" and "See You Again," a duet with multi Dove Award-winning worship leader Meredith Andrews.
Founded in 2011, StowTown Records reflects the musical vision of Ernie Haase and Wayne Haun, in partnership with Landon Beene and Nate Goble. Home to multi Dove Award-winning artists, last year the label launched its contemporary Christian division with the signings of Billingsley and GRAMMY® nominated vocalist Jody McBrayer.
Right Here, the highly anticipated StowTown Records debut, is distributed via Provident/Sony Distribution and is slated to release March 4.
For further information, visit charlesbillingsley.com or stowtownrecords.com. Follow Billingsley on Twitter @CBillingsley.