Introducing the official CCM Magazine Visa® Platinum Rewards card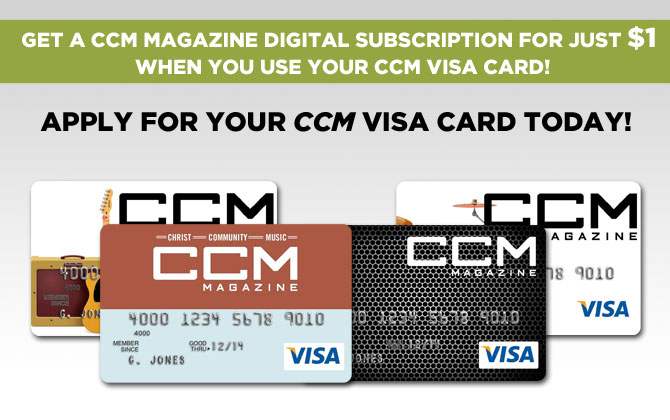 For years, CCM Magazine has provided Christian music fans with all the latest news about their favorite artists! Now you can receive an annual subscription to CCM Magazine for just $1 – when you pay for the subscription using your new, Preferred Visa® CCM Credit Card*.
Applying Is As Easy As 1-2-3!
1 – Complete the Application online at http://www.cardpartner.com/pro/app/ccm
2 – If approved, watch the mail for your card to arrive.
3 – Call 1-800-527-5226 to subscribe* to CCM Magazine for only $1.

Your CCM Preferred Visa® Platinum Rewards Credit Card will provide you such Enhanced Visa Platinum benefits such as:

* 12-month subscription for $1. New subscriptions only. (Defined as not having had a paid subscription in the last 24 months.) At the end of the twelve-month subscription, CCM Magazine will continue your subscription without interruption at the regular annual subscriber rate in effect unless, prior to any renewal term, you decide in advance to cancel it by calling 1-800-527-5226.
The CCM Magazine Visa® Platinum Rewards Card program is operated by UMB Bank, n.a. All applications for the CCM Magazine Visa® Platinum Rewards Card accounts will be subject to UBM Bank, n.a.'s approval.
Powered by CardPartner. The #1 provider of custom credit card programs.