Christian music fan favorite Big Daddy Weave has had a very busy and eventful season of life. In the midst of trials and pain, the band experienced grace and growth. The process also brought them to an even more vulnerable place lyrically and relationally, which is reflected in the bands new album, When The Light Comes, book and reality TV Series. Frontman Mike Weaver took a few moments from the bands busy tour schedule to answer a few questions for CCM. Check it out below:
What are you most excited about on this current tour?
BDW/Mike Weaver: I think the thing I'm most excited about is that we have been working on a new record and it's finally out. So the 2nd date of the tour the record was released (September 13th). And, where we have been playing people some of the songs and then to have the CD/songs available right then and there for them to take home or stream…you work on these things for so long and the whole goal is to share with people. I'm excited how God is going to use this group of songs in the lives of other people. It came from a really painful season but these are all really joyful songs. So we are really excited to share this new music with everyone who comes to the shows.
What led you to pursue a career or ministry in music?
BDW/MW: It's crazy. I don't know that we were ever pursuing a career in music but we were doing ministry. The 5 of us were on campus at the University of Mobile in Mobile, AL and we were leading worship on campus and God just began to open doors. That began to be a 20+ year journey as Big Daddy Weave and that's been the entire experience has been God opening the doors. We told the Lord at the very beginning that if this is what you want us to do, you make the places to play and we'll go. And that's what we've been doing the entire time. It began to look like something else a few years into it when we signed a record deal and signed with our awesome management, Whizbang and our booking agency Greg Oliver Agency. It's different when you have a team of folks who are partners with our ministry and help us with that side but it's really been walking through open doors that God brought.
What is your hope for people as they leave your concert?
BDW/MW: That the fans have a taste of hope. We see so many people who are beaten down by disappointment or stuff that has happened to them in their life or that they are going through. So much of their life has been stolen through fear, shame or regret. When we come together and we share what we, the guys of BDW have been through. What God has brought us through. We talk about our pain, our shame, and our regret. And the kind of stuff that we have faced. We share about how Jesus brought us through that. I really feel like the testimony of what God's done in our life can really cause hope to rise in the lives of people. That's really what we want is for them to experience the hope of Jesus. That he's not done with any of us yet. We are all in process and in progress and that we are on a journey with Him. There is room to grow and that he's not giving up on us. There is more than a second chance for all of us who would call on His name and receive the Hope that he brings.
What was the last book you read?
BDW/MW: A really cool book called Keep Your Love On by Danny Silk. It's just an awesome book about relationships. It could be marriage relationships, friendships, working relationships, ministry partners. It's just an awesome insight into interactions with other people in a Godly way. In a way that honors God and Honors people. Really cool!
Name a song that you wish you'd written (and why).
BDW/MW: Hillsong's "So Will I." I was listening to that song and man, the verses, I can't even keep up with them but it's like good grief who is writing this? This is someone who has been hanging out with Jesus. I really believe that. I love that song a hundred billion times, so will I.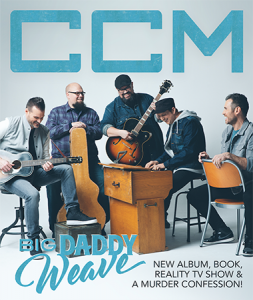 What's the creative process been like as you dream / plan for this tour?
BDW/MW: Being on the road that we always do and it always changes a little bit but there is a lot of the same. I think this tour will really be shaped by these three projects we have been working on. We have a record coming out September 13th. We have a reality series on TBN that is airing September 11th and then I just finished a book that was out on September 3rd. We've been moving from project to project over the better part of this last year and beyond in some ways. We are so excited to share all those things with people. Some of this is embarrassing – pretty vulnerable. I think though the fact that God brought all these opportunities just lets me know in my heart that God is going to use it in some way. Not because we have a great thing to offer. It really is like the loaves and fish with Jesus. The little kid comes and there is a multitude of people to feed and he makes this offering to Jesus. A few fish and loaves. It's definitely not enough to feed a multitude not enough to feed thousands of people, but in Jesus's hands, Jesus does a miracle with what the little kid brought him. I think it's with all these projects whether it's the book or the new album or the reality series, it's like these are just our offerings to Jesus. We are just giving him who we are and what we have been up to and we are just believing that Jesus can use the story of that in a greater way than the story is on it's own. I've been in a walk with Jesus long enough though to know that Jesus really does use what we give him. It's not looking for ability so much so that he is looking for availability. So Giving him these offerings, we are just believing that he can do the miraculous and use these projects in the lives of people.
Are there any underlying themes or threads that tie this project together?
BDW/MW: Really the common place that all these songs were written from is just pain – going through dark seasons. Beginning with what my brother, Jay the bass player of Big Daddy Weave, went through becoming a double amputee, losing both of his feet. Seeing him walk through the darkness and hearing the voice of the enemy telling him his life wasn't work living and struggling with thoughts of suicide to us losing our dad to pulmonary fibrosis. When I say we lost him, I know he is with the Lord, but the process of believing in healing and then not necessarily seeing things turn out the way that we thought but experiencing God all throughout that journey.
And experiencing God as comforter, experiencing him as sustainer and so many other sides that we've seen of Jesus in this season. Our drummer Brian and his wife Kim dealing with infertility and walking through that. The songs – this project – the underlying theme was the pain that we were in but the greatness and the faithfulness and the hope of Jesus. The consistency of how He brings hope, how he is hope in the middle of the dark times, in the middle of the times that don't make sense. When you hope in the Lord and it's during a great season, that's one thing but that's completely different when you aren't seeing the answer to the prayers the way you thought you would but in the middle of it we are still God still man just blow our minds with how present he is.
And there is a depth to walking through that season with the Lord and finding out that He really is trustworthy. There is one kind of understanding that he is trustworthy that we receive by faith when you are like God I believe you are trustworthy but there is another kind of trustworthy that we can experience by going through the trial and finding him faithful in the trial, to have that testimony to have that experience is something very different than something you think you believe. When you go through the trial, you find out what you actually believe. So when we first turned in the record, a friend of mine said "man, there is so much joy in these songs." And at first I was kind of taken aback for a second because these songs were all written out of one of the most difficult seasons of our life but when I listened back through that filter I was just like man there really is joy and that is a super natural occurrence. To have joy out of sorrow. Joy beyond sorrow.
And I think that is what we want to share with people. There are so many people who are hurting. Even people who are still defined to this day by something that happened in their life maybe a long time ago. And we just begin to talk about Hope. We begin to share about our own struggles. There is this connecting point in our humanity but then we want to take it a step further by talking about the hope of God that we have experienced in our struggles and then God uses that Hope to cause other people to have hope in Jesus. I love being around that hope. I love seeing the light of hope come on in the eyes of people. I believe that hope is all over this record and we get to share that hope every night.