In humility, a community of worshipers find the greatest win of all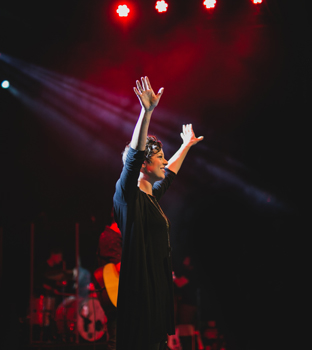 For most of us, the language and spirit of acquisition is practically innate. From our earliest years to our latest, we are intrinsically inclined to want more, gather more, keep more, pursue more. This looks different for everyone, but professional success is generally a universal measure of how we're doing. Accolades, awards and financial gain are barometers; social standing and recognition, a playing field, upon which the competition is fierce.
Bethel Music has been quite a contender over the last several years. Their latest release, Have It All (Bethel Music Label, released March 11, 2016), is now their sixth album to climb to the top of Billboard's Top Christian Albums Chart. Their songs, like "This Is Amazing Grace," "Forever," "You Are Good" and "You Make Me Brave" are recognized the world over and have garnered Song of the Year honors in both the United Stated and Canada.
Their team members, including Amanda Cook (Brave New World), Steffany Gretzinger (The Undoing), Jeremy Riddle, Josh Baldwin, William Matthews and Hunter Thompson, have become renowned worship leaders and songwriters as members of the worship staff, which numbers over one hundred and is led by couple Jenn and Brian Johnson, whose father is the lead pastor at the church.
"My dad has the ability to connect with people on a heart level and knows how to pick certain people for particular positions," says Brian. "Every kind of ministry you can think of is present at Bethel Church. From grade schools to 65-and-above fellowships and, of course, the label, the worship collective and worship leaders."
Without question, there is abundant source material to write an album about having it all. Bethel tips every scale with its commitment to excellence, cultural relevancy and a dedicated, thriving church body—world-wide fan-base not withstanding.
Ironically enough, however, this album has little to do with any of it. Despite their undeniable success, it turns out the people at Bethel are just as real as the rest of us…with real insecurities, real baggage and real issues. Their scars have become as defining a characteristic as their victories. In fact, it was the intersection of those scars—the pain, the loss and grief that comes in life—that formed the foundation of Have It All. This album is not a declaration of accomplishment; rather, it is a proclamation of surrender.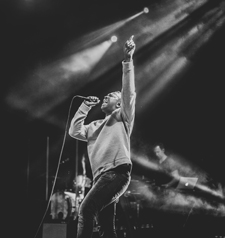 "When you're friends with all these guys, and you know what they've walked through…and then a song comes out of that season, there's always a backstory to it," says Brian Johnson. "We all had similar things happen—whether good or bad—and this album goes to show that we all made it through the journey and we have something to show for it in the form of a song."
Brian took the lead in this direction, penning the title track from his own deep struggle with anxiety that threatened to derail everything—ministry, home life and his own health. "I was brought to the end, mentally," he shares. "I had a nervous breakdown. The reality of it is that without the Lord, I'd be on a lot of medications. But He came through and I was able to get off of them. I began to see clearly again—and began this daily practice of letting things go. I had to conscientiously surrender my fears and anger; not stuff it down, but really deal with it. I had to take away my right to 'be God' and respond in a negative way and let Him be God and be in control. I have to choose to trust that His ultimate plan is going to happen. The change that He has brought about inside of me as a result of doing so is undeniable."
As is the theme of surrender resonating through every track of Have It All.
"Each song has its own theme oriented around deeper surrender to God," Jenn adds. "The beauty of God is His patience. Every day, we can learn to surrender a new part of ourselves that we didn't even know we needed to.
"We're all artists and creatives and can be prone to being insecure or wanting to be 'known,'" Brian says. "That can manifest in bad ways. We all had to overcome a lot of insecurities and move past a spirit of competition. God gave us real confidence throughout this process and now we are carrying the grace for others to also become free from insecurities."
Already, audiences are responding to the strong message that is clearly filling a deep need within many. "Have It All" has already become the top-played track on Spotify's Praise & Worship Songs playlist while also being billed as the No. 5 track on Spotify's all-genre New Releases section. In its debut week at retail, Have It All hit No. 6 on the Billboard Top Albums chart, while also landing at No. 1 on the overall iTunes Albums chart in the U.S. for six straight days. It didn't stop there. The album further became a worldwide hit, reaching iTunes' overall No. 1 in Canada, No. 3 in Australia, No. 6 in Brazil, No. 7 in the UK, No. 24 in Germany and No. 63 in France.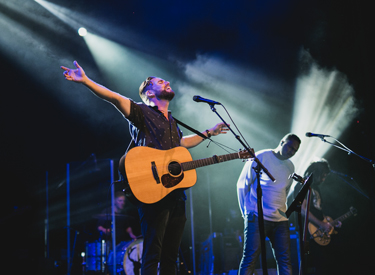 One can easily surmise the reason for such global acclaim—excellent musicianship intersecting with provocative, honest story. But there's something else to Bethel's worldwide appeal; something deeper that has been placed within the heart of the leadership at the church.
"I'm obsessed right now with the notion of unity in diversity," says Jenn. "Romans 14-16 revolves around Paul and the capacity Christ placed within Him to celebrate diversity and walk in love with those around him who were not like him. That's my prayer and vision—to bring people together and celebrate our diversity and find unity within that."
Burdened by the desire to carry a mantle for worship on the global stage, Bethel has begun a movement, now several years deep, of bringing influencers and religious leaders from all over the world together to recognize and honor what God is doing in all the movements around the world.
"The point is to cross pollinate what God is doing everywhere and how we've been impacted by that," Jenn continues. "I think that will spread. The more we celebrate who people are, rather than stumbling over who they're not, the stronger we will all be. I feel like God is doing that on a greater level than ever before, leading us to common ground, championing diversity and fostering an atmosphere in which all God's children can work together."
The international gathering is but one of Bethel's upcoming events. In May, they will hold their first conference in Los Angeles, California, called Heaven Come. Jenn and Brian are also in the process of putting together their first personal album since 2006. Additionally, their online Worship University, WorshipU.com, is continuing to grow, training worship leaders around the world.
It's no accident that all of the wonderful things that have been taking place within Bethel are continuing. Their heart for God, relentless passion for His fame and utmost commitment to surrender are a winning formula when it comes to Kingdom building.
But even within that, Bethel and the leadership within are aware of the challenges that are inherent within churches that possess their size and influence. With so many organizations akin to theirs, such as Gateway, Jesus Culture, Passion, Planetshakers, Hillsong and others writing their own music and creating their own ministries, the opportunity to share songs is much smaller than in the past. Gone are the days of the Hymnal in every church pew across the country. Rather, many congregations are singing songs penned by their own worship leaders that may never be heard outside of their church walls. Good or bad, the concept of a unified church body and a unified voice is different than it once was.
"I think there are pros and cons to this scenario," says Brian. "There are songs that everyone should be singing. At the same time, a lot of people have discovered that there is success in writing, so lots of churches are writing and singing their own songs. That's good, but can be unhealthy at a point. However, beyond the idea of success, the blessing in this is that churches are writing lyrics that are pertinent to their church body and the lives of the people within. They're living these songs.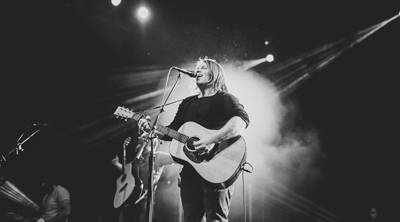 "That's not to say that there aren't songs we shouldn't all be singing even if they're not our songs. Songs like 'Ten Thousand Reasons' should be sung by everyone. Even if it means I have to put my new stuff on the shelf for a bit, there is a humility that's required to lead people well."
At the end of the day, leading well is foundational for Brian, Jenn and everyone at Bethel. To be a light in a hurting world is a call worth heeding despite sacrifice and setting aside personal gain.
"The reality is this," adds Brian. "A lot of people are preaching a one-sided gospel. Jesus went around healing people who are sick. He left tangible evidence of who He was. Today, we're knowledge-based. That's great. But Jesus is the manifestation of perfect theology. You can't deny the love of God. If you're completely broken and sick and you are healed, you will know love. Right now, it seems like the world defines love as tolerance. But true love happens when we meet face to face with Jesus. Preaching is important, but the world is tired of words. They want to see the love of God."
From many who have been broken and have felt and seen the tangible evidence of God in their lives, the rest of the world has the chance to hear the story of true love…of true gain…of the one, true path to having it all—utter surrender to the ultimate victor.