But you are a chosen people, a royal priesthood, a holy nation, God's special possession, that you may declare the praises of him who called you out of darkness into his wonderful light. 1 Peter 2:9
The concept of royalty is often lost on a nation and generation too cynical, doubtful and irreverent to give credence to the idea. However, in the perfect timeliness and timelessness of scripture, it's very clear that those who know God and are His are indeed royalty.
It's also clear that Audio Adrenaline's comeback is not merely a band reunion; it's the manifestation of a commitment made by men of God who have been called out of darkness into His wonderful light.
Well…not so much in the dark…more like out of the blazing spotlight they commanded for nearly twenty years.
Since Audio Adrenaline disbanded in 2006 due to lead singer Marc Stuart's vocal problems and life changes, two of the members, Mark and Will McGinnis have dug into ministry, primarily through Hands and Feet, an organization they founded in 2004 to help the orphaned children in Haiti.
"Mark and I poured ourselves into the Hands and Feet Project," says Will. "It's really our legacy. We have 100 kids we're taking care of now, but there are still over 800,000 to a million kids not being helped. It's really all about anything we can do to bring awareness to the need and the plight."
While they had their hands full (pardon the pun) with the Hands and Feet Project, the two also founded a worship group of revolving musicians called the Know Hope Collective. Suffice it to say… they have most certainly been busy…just under a different spotlight.
The same can also be said for Kevin Max.
"People are saying it's great to have me back," Kevin says with a laugh. "I never left!"
So true! Since dcTalk took an official hiatus in 2000, all the guys —TobyMac, Michael Tait, and Kevin have led solo careers. Ceaselessly creative and artistic, Kevin has dug into film, live theater, writing and, of course, his own style of music. And in all his spare time, managed to have four kids!
Throughout all the ventures and passionate pursuits both the members of Audio A and Kevin have been pursuing over the years, God made it crystal clear that none of them were through with the world of CCM quite yet.
Prompted by the needs of the Hands and Feet Project, Mark and Will determined that a reunion of the band would be just the thing to bring their ministry to the forefront.
And when they approached Kevin to step up to the lead mic, it was the ministry aspect that drew him in.
"It wasn't just starting the band again," Kevin shares. "It was linked to something that had a much bigger idea behind it… helping orphans."
An adopted child himself, Kevin resonated with the call to help others in similar situations and quickly fell into step alongside the Hands and Feet Project.
"The Hands and Feet project is a huge passion of ours," says former front man Mark. "The mission of the project is to care for the orphans of Haiti and to inspire people to serve along with us.
"Our vision is to raise these forgotten children in Christ centered families," he continues. "And give each child the opportunity to reach their God-given potential. Currently we are at capacity, but are in the process of doubling the sizes of our Children's Villages. The rebirth of Audio A plays an invaluable role in helping us tell the story of the orphans of Haiti."
Fortunately, the legacy, notoriety and fan base Audio Adrenaline has already amassed since their beginning in the late 1980s is also quite invaluable. And with a new lineup, new songs, new sound and renewed passion, it only stands to grow from here.
Undoubtedly, bringing on Kevin Max as the new lead vocalist, will cull even more fans—old and new back on to the Audio A bandwagon. It's a gutsy move, given the distinct nature of Kevin's voice, whose vibrato and ethereal vocal quality most definitely puts the sound from the band in a brand new place. And while the sonic appeal of the new vocal style is instantly appealing, the decision to go with another lead vocalist was not an immediate or an easy one.
"We had been challenged about a new lead singer after Mark had lost his voice," shares Will.
Challenging though it was, before long God clearly pointed them back to the band and to a friend and fellow musician.
Out of respect, everyone approached the decisions with slight trepidation.
After Kevin was approached to jump in, he immediately circled back to Mark to ask, "How do you really feel about this?"
"He was very supportive of me from the very beginning," Kevin continues. "And it's all been amazing."
"I absolutely love having Audio A back making music," Mark echoes. "Don't get me wrong; it would be great to be out there fronting the band, but that's not what God has for me now. Kevin has been a huge blessing to the team. Obviously Kevin is extremely talented, but not many people get to see the Kevin we get to see. Kevin, the 'rock star' is a softy at heart. He has taught me a lot about friendship and giving over the past year."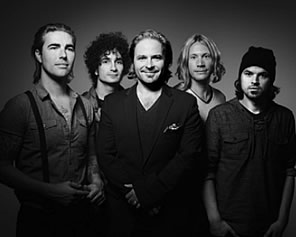 For several months, the men began to redefine their roles within music and ministry. Perhaps the most significant being Mark himself. No longer capable of commandeering the outfit on stage, he has found a renewed vigor and focus within Hands and Feet and in the realm of songwriting.
"Songwriting for me has changed dramatically," Mark shares. "As my voice began to fall apart, songwriting became a chore…a job. Writing became frustrating. It just reminded me of how broken my voice was. Now I get to write music for voices that are amazing. Kevin Max can do just about anything with his voice. To work with him and other artists that I write for has brought the joy of creating back in my life."
And while his singing voice isn't the one he's using today, God is using his voice for a new song — a song of hope.
"Mark will be the voice of these orphans," says Will. "I hope people can see how special that and all of this is. It wasn't planned. I see how God is orchestrating this and get blown away. I don't want to take that lightly. It's really been flawless and I have to give God the credit for that."
"With this group, everything feels God appointed and natural," Kevin offers. "There is no limit."
And so, adhering to the guidance of their limitless God, the new Audio Adrenaline is bowed before the King…
Where there were once shadows and lack of clarity, they are all finding the light, serving those in need, donning the robes of their royal priesthood and with it, embracing the joy of loving the least…