With five critically acclaimed recordings to his credit, Andrew Marcus has performed alongside such artists as MercyMe, Leeland and Phil Wickham, among others. A familiar name in Canada's Christian music scene since his 2007 debut, Salvation And Glory, the multi-Gospel Music Association Covenant Award-nominee also serves as pastor of worship and creative arts at Coquitlam Alliance Church in British Columbia, Canada. Constant (buy), Marcus' BEC Recordings debut, bows August 12, 2016.
With so many accolades and much attention on his music as of late, CCM Magazine wanted to get to know the man with two first names on more of a, well…first-name basis! Enjoy our conversation with Andrew Marcus below.
CCM Magazine: Being from Vancouver, Canadian audiences have been familiar with your music for a number of years. How would you introduce who you are, and describe your music, to new listeners in the United States?
Andrew Marcus: I am a husband to my beautiful wife Michelle and we've been married for three years. She's been a huge support and encouragement on this crazy journey the Lord has us on. Also, I grew up in an amazing Godly environment. My mom, dad and sister are so incredible and continue to show me the love of Jesus in everything they do. I really believe I wouldn't be where I am today without my wife and family. I currently work at Coquitlam Alliance Church as the Worship Pastor. I am blessed to serve with such a great staff and community of musicians every weekend. I have been doing a bit more travel ministry this year and it's overwhelming to see all that God is doing through these songs.
This new album, Constant, is something I've been working on for the past two years. My focus for this record was to write songs for the Church. I try to create music that has singable melodies filled with gospel Truths about who Jesus is and what He's done for us. Of course, we always try and think of new and creative ways of sharing those Truths both lyrically and musically.
CCM: Speaking of the new album, it is your debut on the BEC label. Why is the title significant?
AM: Throughout the recording of this project, the Lord has been constant in His faithfulness. When the process started, I had no money and really no faith that God would provide the funds. A lady at our church gave me a prophetic word during one of our Sunday service fellowship times. She told me, "Andrew, this is God's project, it's His money. These are His songs for His church and you are His! This album has nothing to do with you." It was in that moment that I knew I needed to step out in faith and work on God's project. I've had to remind myself of these truths throughout the two-year recording process, and as I have continued to seek and trust the Lord, He's constantly led me, revealing His goodness and grace through it all.
When the record was complete we had six studio tracks and three live versions. I felt so strongly that I was supposed to do a seventh song. Looking back at an email the same lady sent me after we had the conversation about my album, she said to trust God to provide for seven songs. A few days before my trip to Nashville I was sitting in my studio, frustrated as I tried to come up with a new song. Casey Moore from the band Leeland called me that night. The first words out of his mouth when I picked up the phone were, "Dude, you need to relax, the Lord will give us a song when we are together."
I flew a red-eye the next day to meet Leeland and the rest of the band. God orchestrated everything perfectly, again showing His constant grace and sovereignty. "Constant" was the last song we recorded for the album and I really feel like it summarizes my whole two-year journey working on the project.
CCM: Some of your friends, including Paul Baloche and Leeland, co-wrote and contributed vocals on the record. Tell us how those collaborations came to be.
AM: I met Paul Baloche at a conference a few years ago. We were chatting over dinner together and he asked me about the new record. I told him I was working with Scott and Ed Cash and shared about what God had been doing with some of the new songs He was birthing in my heart. Paul said if I ever wanted to co-write he would be open to helping in any way he could. He has been a huge inspiration in my life over the years. I am so thankful and have learned so much from Paul.
All the guys in Leeland have become such close friends too. When I told "Lee" about doing a new record with the Cash brothers, he was excited to jump on board and be part of it. They ended up driving twelve hours through the night from a show in Oklahoma to record with me early on a Monday morning. I am so thankful to have them on this album. Their friendship has been such a blessing and we are all excited to do more ministry together in the future.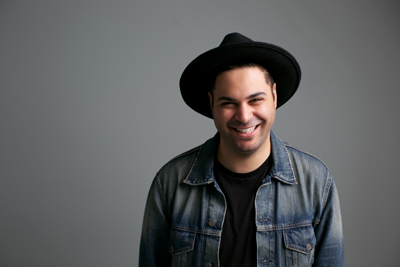 CCM: Constant was produced by Scott Cash, and executive produced by Ed Cash. What was it like working with them in the studio?
AM: Scott and Ed have both been so encouraging to me during this entire process. The amount of love and support I've received from them is a huge part of this album. Both the writing and recording process didn't feel like we were in a studio, it felt like we were in church. They created such a safe, worshipful environment, you couldn't help but be at peace, sensing the presence of God as we wrote or tracked. Their hearts for the Lord and His Church have been an inspiration to me and I've learned so much as I've observed how they live both in and out of the studio.
CCM: You wrote "You Are With Me" during a trying season in your life. Tell us about that.
AM: "You Are With Me" was written as my wife and I both faced illnesses. We found out the place where we were living was infested with black mold. This was the major cause of my wife's sickness, so we had to move out and we gave our notice with no place to live. This all happened a few days before I flew out to Nashville to start recording this album. It was such an overwhelming season. One night I was sitting on our couch with my guitar, praying and listening as my wife tossed and turned with asthma from the mold. The house was all packed up and we were ready to go wherever the Lord was going to lead us.
I began to pray, so desperate for Him to give me a glimpse of hope and encouragement in the middle of the storm we were facing. Paul Baloche always encourages me to "sing my prayers," and so that night I did. "You Are With Me" was birthed out of that moment I had with the Lord. As I sang my prayers I instantly felt an overwhelming sense of peace. The situation didn't change; I had no answers to all the unknowns ahead of us, but in my heart the peace I felt was as if the situation had changed. I was reminded that the Lord was with us; He will never leave us; He will never forsake us; and He will never walk out on us. He revealed a new glimpse of His faithfulness and grace to me that night.
CCM: You serve as pastor of worship and creative arts at Coquitlam Alliance Church in British Columbia. How does your role at the church impact and inform the music you create?
AM: It has been the biggest joy and blessing to be a part of the Coquitlam Alliance Church family. God has been teaching me so much during the past few years there and I continue to thank Him for our community. Whenever I am working on new songs, I am always thinking about my church. When I sit in a studio to create, or co-write with friends, I always try to envision the families that attend our church. How can I best serve them? How can I help them and remind them of the amazing grace we have in Jesus Christ? What about the new people who have just started attending? How can I share with them the Gospel of Jesus? How do I teach them who He is and what He has done for us?