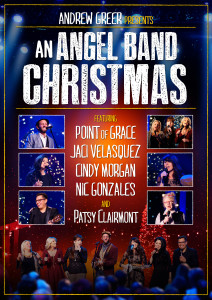 If you're an eager consumer of Christmas music year after year, there's no doubt that you've already become accustomed to mixing in several Andrew Greer favorites to your holiday playlists from his Angel Band: The Christmas Sessions recording, and even from the friendly collaborations on the new O Come Emmanuel (Lucid Artists, October 2015) album. With An Angel Band Christmas DVD, now available through LightWorx, Greer invites his band of angels, and several other friends, to the stage, and into your home theatre, with his signature spin on the family Christmas concert.
Recorded live in Nashville, TN, the DVD features performances by Greer, Cindy Morgan, Point Of Grace, Jaci Velasquez and Nic Gonzales (Salvador), with special appearances by author Patsy Clairmont and Sandi Patty (a moving music video-style duet with Greer, of "Ave Maria"). Greer's song selections and intricate musical arrangements expertly mesh the celebratory Christmas traditions with the anticipation of Advent. "When I think about the season, what draws me in and begs my attention," Greer tells the audience, "Is this period preceding Christmas. When I think of Advent, in my hoping and waiting, I think of the perspective that's gained from heartache—how it suddenly finds meaning, understanding and hope in the waiting for Emmanuel, 'God with us.'"
So much of that anticipation and meaning can be felt on performances like "I Wonder As I Wander," as Cindy Morgan's eerie tones almost command your mind for a different perspective of the season, and Jaci Velasquez's emotional performance of "Heartbeat Of A Baby," singing alongside guitar-strumming husband, Nic Gonzales. In addition to the tasteful and welcomed cerebral shift—musically, think Americana-cool, minus an overly annoying hipster-vibe (with Clairmont, Pointe Of Grace, and a TBN'esque studio audience in attendance, this helps round to out the inclusivity, without it feeling like a hokie 'Homecoming'—so, two-thumbs up for production and attention to detail!). Intermittent on-stage interviews and chatter are enjoyable ice breakers throughout, and the bonus do features add value—we encourage you to pick up a copy, as you'll be glad you featured this on your flat screen over any cheesy network television Christmas day parade.
Jaci Velasquez (photo: KohlPhoto)
Patsy Clairmont (photo: KohlPhoto)
Point Of Grace + Morgan (photo: KohlPhoto)
Andrew Greer (photo: KohlPhoto)
Greer + Morgan (photo: KohlPhoto)
Point Of Grace (photo: KohlPhoto)
Andrew Greer (photo: KohlPhoto)
An Angel Band Christmas (photo: KohlPhoto)
Andrew Greer (photo: KohlPhoto)
Velasquez + Gonzales (photo: KohlPhoto)
Point Of Grace + Morgan (photo: KohlPhoto)
Point Of Grace (photo: KohlPhoto)
An Angel Band Christmas (photo: KohlPhoto)
Velasquez + Gonzales (photo: KohlPhoto)
Andrew Greer (photo: KohlPhoto)
Point Of Grace (photo: KohlPhoto)