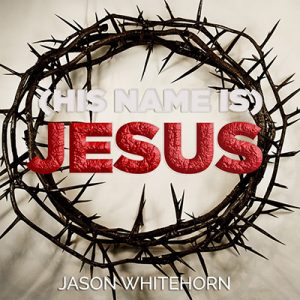 Nashville, TN (January 18, 2019)
After the success of his independent album As Long As I Have Breath, worship leader and singer/songwriter Jason Whitehorn returns with the release of the single, "(His Name is) JESUS!" The new release is a simple, yet powerful song with a four word—and certainly unforgettable chorus—"His Name is 'Jesus'," the song exclaims.
"At the church where I lead worship, a woman wrote a sincere comment about a song that we had sung on a particular Sunday," said Whitehorn. "She mentioned that the lyrics talked about how we were going to sing out the name of Jesus – but we never did. That was sad to me. We do that a lot, you know. We never really sing songs that just talk about His Name. I picked up my guitar and those were the first words that came out."
Jason has been responsible for songs on CCLI such as "Never Alone" and "As Long As I Have Breath," both songs resonating within the church and radio. Whitehorn hopes that "(His Name Is) Jesus" becomes more than just an anthem to the churches.
"The songs we, as songwriters, write have the potential to be weapons in the hands of the church. I want this one to be an arrow in the quiver of the Church against the enemy," said Whitehorn. "When you're struggling with your day and you've heard "(His Name Is) JESUS" on the radio or sung it at church…it becomes and arrow to shoot right back at Satan to say 'not today! His Name is JESUS!'"
"(His Name Is) JESUS!" released January 18, 2019 and is available on all major music platforms.
For more information on Jason Whitehorn, including additional bio and social media links, visit www.JasonWhitehorn.me