Nashville, TN (February 21, 2019)
Run the Race—an inspiring film about two young brothers facing unbelievable odds with an unbreakable bond release nationwide Friday, February 22, 2019.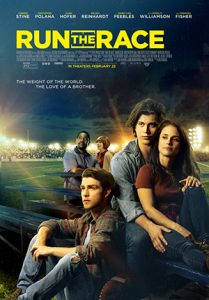 In Run the Race, two desperate brothers sacrifice today for a better tomorrow. When an injury sidelines Zach—a college football prospect—his brother David races to salvage their future and point Zach toward hope. In theaters February 22, Run the Race shows what's possible when you run to—instead of from—the overwhelming love of God.
"I wanted to be part of something that's encouraging and inspirational to the viewer. I believe "Run the Race" accomplishes this by showing two brothers struggling with real life, but getting through it by supporting each other and their faith. I hope those who see it can walk away with more faith, hope, and love."
—Executive Producer and Heisman Trophy winner Tim Tebow
Watch the movie trailer here: