The lady just seems to have everything – a powerful voice that leads fans to the throne of God, timeless good looks, an unparalleled recording and television career with scores of Dove Awards and even a Grammy nomination, a happy marriage to a successful recording producer, and three precious girls. Truly, when combined together, you get the feeling that Natalie Grant has it all!
However, if you read Natalie's honest, transparent social media posts, you see a woman who struggles with the same issues, fears, and sins that the rest of us struggle with. In particular, we see a familiar narrative to many women that pops up – pouring heart, soul, and time into her family and career, which leads to no time for self. Consequently, "self" gets put on the "shelf" – and her faith and strength suffer the most.
But it appears that Natalie has come to the conclusion that a change needs to take place. Having found that denying self can lead to some undesirable consequences; Natalie is taking charge of her health, her career, and most importantly, her faith! On her Facebook,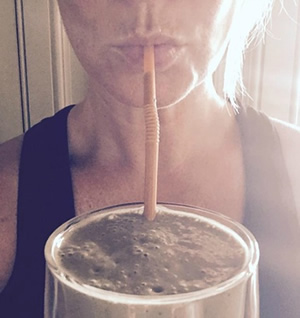 Natalie reports that she is making time with God her primary priority. Going through the motions in her walk has become a thing of the past and quiet time is now a daily mandate. She has also completely revamped her diet – and sneak photographs reveal a singer that has lost around 40 pounds!
"I'm having a glass full of green goodness this morning. 11 months ago I started on a journey that has changed my life. Up to that point I was making sure everyone in my world was healthy, eating right and living well. But I was at the bottom of the list, eating whatever was fast, convenient and easy. And to be honest, I was eating whatever comforted me in the moment. Food was just one way I put myself at the bottom of the list. My personal one on one time with Jesus was not a priority, and me-time was nonexistent. Between my music career and family, I was using all of my time making sure to fulfill my calling as a Christian, wife and mother. In my own struggle with false humility, I was the sacrificial lamb, however completely ignoring myself did not make me a better wife, mother or Christian. It just made me more anxious, tired and overweight. This is not just about food. It's not about trying to be a certain size or weight. It's about learning how to take care of my whole temple – the inner and outer me. So today, take care of yourself, one step at a time. JUST DECIDE to move yourself up on your priority list. It's NOT selfish. It's smart. And it will make you a BETTER person and follower of Jesus in every facet of your life. Cheers to healthy living."
On the professional front, Natalie has given us some glimpses from the studio as she constructs a new upcoming album. And if the music were not enough of a creative outlet, the singer has also ventured into fashion; launching a website full of inspiring women's clothing and jewelry.
Are we seeing the New Natalie Grant? Or are we seeing Natalie newly embracing the abundant life we have in Christ? I bet we know the answer!
Get connected with Natalie Grant:
Website: http://nataliegrant.com/
Facebook: https://www.facebook.com/nataliegrantmusic
Twitter: https://twitter.com/nataliegrant
Instagram: https://instagram.com/nataliegrant/