In a cabin on a lake in Pennsylvania, founding members of Sidewalk Prophets, Ben McDonald and David Frey, wrote most of what would become their third full studio album, Something Different.
A band known for spending more days on the road than anywhere else, the quiet seclusion of the cabin helped Ben and Dave create what might be their most honest and musically diverse album yet. Set to release from Fervent Records on August 28, Something Different was created during a unique and challenging time for the band.
For Dave, writing at the lake was symbolic: "All these things were happening in our lives at that time but here we sat, on the peaceful serenity of this lake. It was a different way to approach writing. Instead of a clock in and clock out approach to writing, we were in the moment, in this environment for days on end asking God to fill the quiet but remove the distractions and burdens, and allow Him to speak through us. I think the whole experience facilitated, in turn, a different way to show our hearts to the world."
That's what this much-anticipated Sidewalk Prophets project was built on: candor and honesty about where the band is, has been, and is going. It truly is something different for their fans and for the genre.
Their prior albums Live Like That (2012) and These Simple Truths (2009) saw great success with singles like "Live Like That" and "You Love Me Anyway" topping Christian charts. But this time around, Sidewalk Prophets did not hold back, not emotionally, not musically.
For Something Different, the band, which in addition to Ben and Dave includes Cal Joslin (bass), Justin Nace (drums) and Daniel Macal (lead guitar), chose to work with seasoned producer Seth Mosley for the first time. It was a surprisingly perfect fit for Ben and Dave, who have been writing together since their freshman year of college where they met almost 14 years ago.
"Seth is so passionate," says Ben. "He goes above and beyond in all he does." Seth, who has produced artists like Newsboys and for King & Country, was one of several co-writers Ben and Dave flew out to the cabin on the lake for extended writing sessions. Toward the end of their time there, the three of them had written six songs, including one of their personal favorites, "Everything in Awe."
It's a stop-you-in-your-tracks-and-listen kind of song. Reeling in the listener with a slow guitar pick, "Everything in Awe" declares the wonder that is creation and how all of it — people, animals, the stars — are here to worship their creator:
Stars exploding in the wake of your love / Galaxies all turn their head / The stars are gazing on their one creator /
Universe in awe / Whole wide world in awe / Heart and soul in awe / Everything in awe
Their hope is that this song will help others see the beauty of God all around them: "It's that whisper from God saying, 'Hey, this is what I've created for you. This isn't me, but this is a glimpse of what I made with you in mind.'"
The intimacy and nearness of God is written into every song on Something Different. As different as they sound — some soft and melodic, others more rock-n-roll in flavor, Sidewalk Prophets doesn't waste a verse or a chorus. Each line is a chance to present the gospel. The scripture-rooted song "To Live Is Christ" is a perfect example of this.
Already picked up as a favorite among friends and radio, this song adds a moving melody, powerful strings, and piano to a beloved verse in scripture, Philippians 1:21, "For me, to live is Christ, and to die is gain."
"It's simple and real. There's no gloss or glamour to that song," says Dave. "This verse lays it all on the line for us as a band. What does it mean to truly live? Some hold great stock in wealth, or status or other earthly things but for us…we long to live a life chasing the heart of God. Each day is a continual battle to lay our lives down, and lift up Christ on high. This song has become our anthem".
"I remember when we were in the cabin writing this song…every person in the room was moved to the point that the hair on our arms and neck stood up. Moments like that don't happen every day. The small handful of people that we have played the song for so far have been moved to tears."
They have always had a way of connecting with their audience on a personal level. This connection inspired Sidewalk Prophets to put on their Big Family Room Tour — a tour they performed in intimate venues around the country and that they see as their most successful tour in many ways.
Before each show, the members of this Dove Award-winning band arrived early to personally interact with and escort fans to their seats. They treated everyone there like one big family because it's how they see their fans, as family.
"It's one thing to say, 'Oh, we really care about our fans,'" says Ben. "It's another thing to say, 'We want to have this relationship with you, we're going to open the doors for you to come into our family room. You're a part of this.'"
For Ben, Dave and the entire band, there's no space between the stage and crowd. They're on level ground, and as Sidewalk Prophets grows in popularity, platform and radio plays, they intend to keep it this way.
The people they've met at their shows and while traveling helped inspire the title song on the album, "Something Different."
"There are so many different people we've met on the road. So many lives, and they're all different," says Dave. "We're all separate people. We all have our stories, but it's the same God who connects us, and He is the something that makes us different."
Co-written with Justin Ebach "Something Different" is upbeat and pop leaning with an electric guitar and a chance for Dave's vocal ability to really shine. The phrase something different refers to that commons thread Christians share, the thing that sets them apart. As the bridge explains,
It's a love like you've never known / It's a feeling like being home /
It's always knowing that you're never alone / It's Jesus Christ and He's in my soul
The something different heard throughout this Sidewalk Prophets album is what gives this record a certain excitement about it, a buzz that's been building and foreshadowing what will certainly be a collection of hits and fan favorites, continuing to elevate this band to new heights.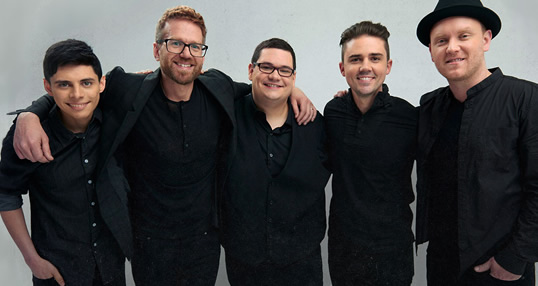 Sidewalk Prophets has big plans for Something Different. The first single, "Prodigal", set in motion a brand new season for the band. With over three years separating this release from their previous, this new music of captivating instrumentation and gripping lyric, will help to propel them as they use their voices, creativity, and most of their days in a year to walk out their calling.
"This is the most proud I've ever been to make music," Ben says. "We've poured everything we have into this project. I feel like I was put on earth to make this record."
There is something different about that type of assurance when a band finishes an album. A trust that you've written and produced exactly what you were supposed to exactly when you were supposed to.
Written from a place of uncertainty, yet in a sanctuary of peace, the honest, Gospel-focused nature of each song on Something Different provides a type of sanctuary itself for listeners, who may also find themselves in the middle of an uncertain time. These are songs they can cling to in the midst of those troubles, but also can sing in the moments of joy and celebration. Songs that will bring assurance in the chaos and peace in the storm, encouragement to keep going, and remind them that the something different inside of them is still there, is constant, and it's the thing that makes us something different.
Get Connected with Sidewalk Prophets
Website // www.sidewalkprophets.com
Facebook // www.facebook.com/sidewalkprophets
Twitter // www.twitter.com/swprophets
Instagram // www.instagram.com/sidewalkprophets
~~~~~~~~~~~~~~~~~~~~~~~~~~~~~~~~~~~~~~~~~~~~~~~~~~~~~~~~~~~~~~~~~~~~~~~~~~~~~~~~
A band known for spending more days on the road than anywhere else, the quiet seclusion of the cabin helped Ben and Dave create what might be their most honest and musically diverse album yet. Set to release from Fervent Records on August 28, Something Different was created during a unique and challenging time for the band. In support of the album, and a topic that is of extreme importance to them, Sidewalk Prophets will encourage fans to participate in their #BeSomethingDifferent campaign this fall – inciting a movement to ignore the pressure to conform to pop culture norms in a world dominated by immediate gratification and self-centered desires. The band wants to tell stories of how God is using people to do extraordinary things and will post videos of inspiring stories across their social media platforms.