Nashville, TN (May 15, 2019)
Closer To Chaos, the much anticipated new studio recording from seminal Christian rockers Seventh Day Slumber, is set to release May 31. Debuting on RockFest Records—the ground-breaking label founded by Seventh Day Slumber frontman Joseph Rojas last year—Closer To Chaos finds the group returning to their melodic rock roots with a collection of 10 brand new songs.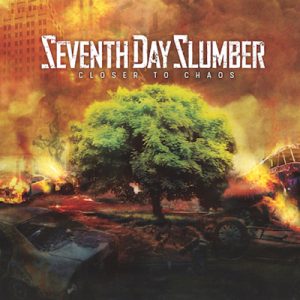 Watch the Closer To Chaos teaser promo video here:

Produced by Seventh Day Slumber's Jeremy Holderfield, with three selections co-produced and co-written by Disciple's Josiah Prince, Closer To Chaos tackles a range of issues, including emotional trauma, self-worth and sobriety, among other topics.
Highlighted by lead Christian and mainstream rock single "Alive Again"— the high-octane album opener a cry for help in the midst of life's stress—Closer To Chaos also features such standout selections as "Man Down," a tribute to servicemen and women who deal with the lasting physical and emotional trauma of war, and "The Letter," which addresses the self-harm and cutting epidemic. In addition, heavy-hitting anthems "Light It Up" and "Cold Kiss Embrace" tackle addiction and toxic relationships, while the Joseph Rojas co-penned album closer "Your Eyes" is a deeply personal track about finding worth and identity in Christ.