Nashville, TN (February 27, 2019)
Following a wave of creativity, passion for the world's youth and the release of five singles that have collectively received more than three million views on YouTube alone, the dynamic, multicultural youth ministry of Planetshakers Church, planetboom, has revealed its details of its first full-length album, companion book and audiobook. All 3 projects will be titled Jesus Over Everything, and will globally release March 22 from Venture3 Media.
The new, 11-track album features all five singles released over the last year, including Hebrews 4:15-16 inspired "Run To You" that addresses the proper response to God after "messing up," Revelation 4-inspired "LEMME TELLYA" that encourages listeners to declare the greatness of Jesus, declarative "Praise Over Problems" and encouraging "New Levels." The album also includes the title track, "Jesus Over Everything," which encourages young people to choose Jesus over pressures, temptations – literally everything.
Watch their latest video, "Run to You" here:

Delving into the rich themes that these songs relay, as well as into the new song, "I Belong," Planetshakers youth pastor, songwriter and drummer Andy Harrison shares his experiences and scriptural insight in the album's companion Jesus Over Everything book and audiobook. Especially created for young people and anyone seeking to enrich their faith journey, the book reveals to readers how they belong, have purpose, are covered by grace and are deeply loved by their Creator who is worthy of all their praise and to be put "first" in their lives.
Leading readers into a deeper, richer relationship with their Creator, Harrison says, "Each chapter matches with one of the tracks on the album and is an explanation of the message behind that song. It's the Word and worship put together."
"Jesus Over Everything is a collection of notes for the next generation of worshippers," adds Harrison. "It's about having a life-changing encounter with God, but it's also about continuing to encounter God for the rest of our lives and setting us up to live out the call that God has for us."
Available March 22 via Amazon.com and for Kindle, iBooks and more, the book is already receiving acclaim from noted pastors, authors, youth directors and others:
"Jesus Over Everything is Andy's life message. He preaches and lives everything in the pages of this book. I pray this book gets into millions of hands, because the message is eternal." —David Hall, Senior Pastor, Lifepoint Church, Adelaide, South Australia
"This book speaks to the cry of every believer who knows that there is more in God for us and that our true joy is not found in holding on to our lives, but losing them for the sake of Christ." —Jabin Chavez, Senior Pastor, City Light Church, Las Vegas, NV
"I really believe that if you read [this book] …your life will be impacted in a big way. Jesus Over Everything will change everything!" —Micah Berteau, Lead Pastor, The House, Fort Worth, TX
"Jesus Over Everything brings clarity and direction on how to navigate your life to position Jesus in His rightful place so you can sustain your fresh encounter with God. Enjoy!" —Chris Estrada, Director, Missions Me College, Los Angeles, CA
"Andy is one of the greatest youth pastors our nation has produced, relentlessly positioning young people for an encounter with God. Every young person needs to get their hands on this book…" —Cameron Bennett, National Youth Alive Director, Australia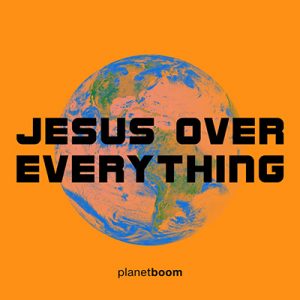 Jesus Over Everything album track list:
01) FYI
02) LEMME TELLYA
03) Praise Over Problems (live)
04) We Choose (interlude)
05) Jesus Over Everything (live)
06) Run To You
07) New Levels
08) Everything x Everything
09) I Belong
10) Jesus Over Everything (studio)
11) Praise Over Problems (studio)
For more information on planetboom visit www.planetshakers.com/planetboom