Nashville, TN (March 1, 2019)
GRAMMY®-nominated, Dove Award-winning Newsboys United bassist and Zealand frontman Phil Joel is set to add author to his diverse credits with the April 16 release of Redwoods and Whales: Becoming Who You Actually Are. Published by Thomas Nelson's Emanate Books, a division of HarperCollins Christian Publishing, Redwoods and Whales is a collection of Joel's own epiphanies of God's greatness and transforming power told through personal stories and truths learned from his life and musical journey.
"I never intended to write a book at all. It wasn't some kind of bucket list thing, I simply had an experience in northern California that I felt prompted to write down and then somehow it kept going and growing from there," Joel says of the inspiration behind Redwoods and Whales. "Slowly, after I'd connected a bunch of dots, it began to shape into something that I felt might be helpful for anyone feeling stranded and a little disoriented in life. I hope the book will inspire people to pursue a life with God in the center."
Addressing such timely topics as depression, addiction and suicide, Joel encourages readers that breakthrough is possible when we align our hearts and minds with God's Truth. Believing He is bigger than we imagine and life with Him is more exciting than what we've settled for, in Christ we can take hold of the abundant lives we were born to live.
"People are looking for fresh direction, wanting to find their true selves and their true place here on earth, but the reality is that this book isn't going to do that, only God can," Joel adds. "And God can only do that if we are willing to work with Him and make a move. It's all about cooperation; it's about taking a step forward, and in that forward motion God swoops in and paves the way for the next step, and the next step and the next. That's what this book is, it's a stepping stone for your foot to land on."
A member of GRAMMY®-nominated, Platinum®-selling Newsboys for more than 12 years, Phil Joel was featured on such seminal albums as Take Me To Your Leader and Step Up To The Microphone, and he sang lead on one of the group's signature songs, "Entertaining Angels." Joel, who has also released multiple solo albums, is the founder and frontman of critically acclaimed alt-pop/worship band Zealand. The group's full-length debut, Liberated, released last year from Word Records.
Newsboys welcomed both Phil Joel and Peter Furler back to the group in 2018, playing more than 100 shows as Newsboys United. The supergroup is currently headlining the 43-city Winter Jam Tour Spectacular, Christian music's largest annual tour. In addition, Newsboys United will join forces with multi-Platinum®, multi-GRAMMY®-winning singer/songwriter Michael W. Smith for this spring's Surrounded & United: The Tour. The 10-city outing will be a night of worship featuring hits spanning both artists' unparalleled careers.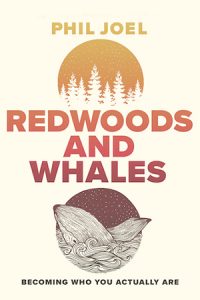 Redwoods and Whales:
Becoming Who You Actually Are
Phil Joel
Thomas Nelson
April 16, 2019