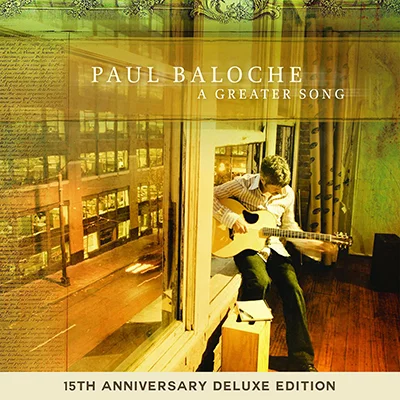 Nashville, TN (January 25, 2022)
Integrity Music announces the release of A Greater Song: 15th Anniversary Deluxe Edition from legacy artist, worship leader, and singer/songwriter Paul Baloche. His trailblazing album, which originally offered many of Baloche's most loved and well-known songs in Christian and church culture such as "Hosanna," " Praise Is Rising," "You've Been So Good To Me," and "Your Name," is now officially re-released in both live and re-imagined formats.
"The songs on A Greater Song were birthed in the midst of worship in my local church 15 years ago. I remember it being a season of intense and consistent prayer in our community and I can hear it in the voices on the original recordings. I can still picture the faces of our congregation as we lifted up these songs as prayers to God from our fellowship. Surprisingly, many of these choruses are still being sung in churches around the world." —Paul Baloche
Recorded live all those years ago, A Greater Song embodies the sound of a generation which still resonates today, and Baloche's words and melodies capture the powerful message of the Gospel in a relevant and relatable manner. A Greater Song is not only precious to Baloche but also to the legacy of Integrity Music and their partnership of almost 30 years.
Seizing the opportunity of this significant anniversary, Paul Baloche teamed up with songwriter and film producer Jon Guerra. Baloche explains, "We sought to reimagine the best of these songs with fresh arrangements and new voices while retaining the heart behind these musical prayers. I hope they inspire a new generation to lift a greater song to Jesus with their whole heart and lives."
A Greater Song 15th Anniversary Deluxe Edition Track list:
Hosanna (Live)
Because Of Your Love (Live)
A Greater Song (Live)
I Will Boast (Live)
Your Name (Live)
What Can I Do (Live)
You Have Been So Good (Live)
Thank You Lord (Live)
Creation's King (Live)
Here And Now (Live)
Just As I Am (Live)
Rising (Live)
Hosanna (Reimagined)
Your Name (Reimagined)
A Greater Song (Reimagined)
What Can I Do (Reimagined)
Because Of Your Love (Reimagined)
You Have Been So Good (Reimagined)