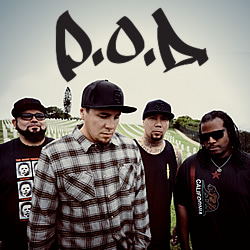 Los Angeles – Multi-platinum hard rockers P.O.D. debuted the video for current single, "This Goes Out To You", via VEVO on Aug. 13, 2015! The Top 20 Active Rock and Top 5 Christian Rock track is the first single from the band's ninth studio album, The Awakening, to be released by T-Boy/UMe on August 21st. Preorder details for the album as well as upcoming tour dates can be found on P.O.D.'s site, link below.
Directed by San Diego-based filmmaker, Gavin Filipiak (Prayers, Young Gods), the video for "This Goes Out To You" was shot on location and is a tribute to their hometown community and San Diego culture featuring "Cholo Goth" duo Prayers, Roller Derby darlings San Diego Derby Dolls, dancers Hob.e, Prime Tyme Ron Myles and Jason Sensation, as well as vintage cars from various local clubs organized by Tribal Streetwear.
Watch the video here…
Long known for carrying the hard rock torch with a positive message, P.O.D. are looking forward to sharing The Awakening with fans around the world. The album travels on a journey based on the good and bad choices of a central character, exploring the consequences of his decisions.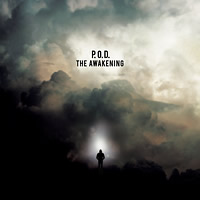 "The Awakening is meant to be listened to in its entirety," says P.O.D. singer and lyricist Sonny Sandoval. "Every song ultimately explores a character dealing with life, making mistakes, fighting, trying. But we also live in a singles-type world, and it works on that level, too."
P.O.D. are set to make a SoCal run during the album's release week with three intimate shows, including the Mayan in Los Angeles on Thursday, August 20; House of Blues – Anaheim on Friday, August 21 (release day); and House of Blues – San Diego on Saturday, August 22. Additional tour dates below.
Revolver Magazine has launched an exclusive track premiere for "Revolución" (featuring Lou Koller from Sick of it All) from The Awakening. Check it out at http://www.revolvermag.com/news/p-o-d-premiere-new-song-revolucion-feat-sick-of-it-alls-lou-koller.html
P.O.D. on Tour (2015) …
DATE CITY VENUE
August 20 Los Angeles CA Mayan
August 21 Anaheim, CA House of Blues
August 22 San Diego, CA House of Blues
September 8 San Francisco, CA DNA Lounge
September 10 Portland, OR Hawthorne Theatre
September 11 Eugene, OR Hi Fi Music Hall
September 12 Seattle, WA El Corazon
September 13 Edmonton, Alberta The Ranch
September 16 Regina, Saskatchewan Pump
September 17 Calgary, Alberta Marquee
September 20 Boise, ID Neurolux
September 22 Chico, CA Senator Theatre
September 23 Fresno, CA Strummer's
October 24 Sacramento, CA Aftershock Festival Discovery Park
About P.O.D.
P.O.D. (Payable on Death) formed in San Diego, CA, in 1992, and have since charted their own course with worldwide sales exceeding 10 million, hugely successful international tours, and a series of chart-topping radio hits. Over the span of two decades they have released eight studio albums of original songs – including the triple-platinum Satellite – seen chart success with more than a dozen Rock radio hits, including "Southtown," "Alive," "Youth of the Nation," and "Boom," the Active Rock hit "Beautiful" and their No. 1 single, "Lost In Forever," received three GRAMMY Award® nominations, and racked up four No. 1 music videos. The band has also contributed songs to numerous major motion picture soundtracks. P.O.D. is Sonny Sandoval (vocals), Marcos Curiel (guitar), Traa Daniels (bass) and Wuv Bernardo (drums). The members of P.O.D. are also active members of a tight-knit music community, collaborating on their own records as well as others', including Katy Perry, H.R. (Bad Brains), Mike Muir (Suicidal Tendencies), Sen Dog (Cypress Hill), and more. P.O.D. are set to release their ninth studio album, The Awakening (T-Boy/UMe),on August 21, 2015.
For more information, visit P.O.D. at
Website: http://payableondeath.com/
Facebook: https://www.facebook.com/POD
Twitter: https://twitter.com/pod
Instagram: https://instagram.com/pod/
YouTube: https://www.youtube.com/user/THEPODCHANNEL