Nashville, Tenn. — Multi-platinum, chart-topping pop Christian trailblazer Owl City will release his forthcoming fifth full-length album, Mobile Orchestra (Republic Records/Capitol CMG), on Friday, July 10. This is the first new standard global music industry release date, aligning album releases worldwide to Fridays. Pre-order now and unlock a download of the first single "Verge (feat. Aloe Blacc)." Shortly after the album pre-order went live today, the album shot straight to No. 1 on the iTunes Pop Albums Chart.
The lyric video for "Verge (feat. Aloe Blacc)" premieres today on Vevo. Check it out here. "Verge (feat. Aloe Blacc)" combines Owl City's sweeping vocals and boisterous, bouncy production with Aloe Blacc's strikingly smooth signature croon. Fusing pop, electronic, alternative and R&B, it's the perfect start for the latest musical adventure from multi-instrumentalist, singer, songwriter, and producer Adam Young—aka Owl City.
Upon pre-ordering, fans will also instantly receive "You're Not Alone (feat. Britt Nicole)," which was released as a single last year and hit No. 1 on the Christian Hot AC/CHR chart.
With hopeful lyrics that reference his faith, Young says the song "taps into a sentiment and emotionality that everyone can relate to: feeling alone."
"In your darkest moments, sometimes Jesus chooses to draw on nearest to you," Young continued. "The reminder that He is there with you, that He has your back, is an amazing, life-transforming thing. The song is simply a reminder that God is there for those who call upon Him."
Musically conceived everywhere from airports and hotels to tour buses, hence the title Mobile Orchestra, the album follows up 2012's Midsummer Station, which debuted Top 10 on the Billboard Top 200 and boasted the double-platinum duet with Carly Rae Jepsen, "Good Time." The new record also features standout collaborations with country star Jake Owen, "Back Home," pop luminaries Hanson, "Unbelievable," and more. Meanwhile, tracks like "My Everything" and "Bird with a Broken Wing" illuminate his progression as a songwriter with a balance between vibrancy and vulnerability.
Mobile Orchestra is available for pre-order now on iTunes, Google Play, and Amazon!
Mobile Orchestra Tracklisting:
1. Verge (feat. Aloe Blacc)
2. I Found Love
3. Thunderstruck (feat. Sarah Russell)
4. My Everything
5. Unbelievable (feat. Hanson)
6. Bird With a Broken Wing
7. Back Home (feat. Jake Owen)
8. Can't Live Without You
9. You're Not Alone (feat. Britt Nicole)
10. This Isn't the End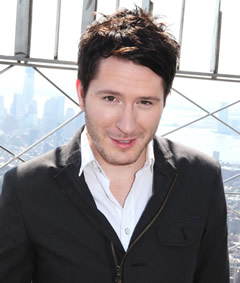 About Owl City
With humble small town beginnings in Owatonna, MN, Owl City (Adam Young) remains an avant garde hitmaker in his own right. With total album sales over 2.5 million and single sales surpassing 18 million globally, his smash "Fireflies" from 2009's Ocean Eyes received a five-times RIAA platinum certification in addition to going No. 1 in 26 countries. "Good Time" featuring Carly Rae Jepsen went Top 4 in the U.S. and racked up sales of close to three million while "You're Not Alone" featuring Britt Nicole hit No. 1 on the Christian Hot AC/CHR chart. He composed the theme song for filmmaker Zack Snyder's Legend of the Guardians: The Owls of Ga'Hoole and an original tune for Disney's Academy Award winner Wreck-It Ralph, while Owl City's music has seen placements everywhere from The Croods and VeggieTales to Smurfs 2. Owl City's fifth studio album, Mobile Orchestra is set to release Friday, July 10, the first global release date.
Get Connected With Owl City
Website: http://www.owlcitymusic.com/
Spotify: http://smarturl.it/OwlCityVergeSP
Facebook: https://www.facebook.com/owlcity
Twitter: https://twitter.com/owlcity
Instagram: https://instagram.com/owlcityofficial/