8 April 2015 – Nashville, TN – Mansion, the first full-length record from hip hop/alternative artist NF, has claimed the top spot on Billboard's Christian Charts its first week. The album has also hit No. 9 on Billboard's Rap Album charts. Selling an impressive 10,169 units (Track Equivalent Albums) in one week alone, Mansion released March 31 on Capitol CMG.
On release day, Mansion debuted at No. 6 on the Hip Hop/Rap iTunes chart and No. 1 on the Christian iTunes chart. The album has also received high critical acclaim. With reviews praising NF's "raw transparency, honest and full of depth" lyrics, his focused message and gifted vocals, it has also been touted that NF's Mansion LP debut "hits the mark on all fronts."
The music of NF has been heard on ESPN, VH1, Showtime, NBC's "Chicago P.D.," and "Grimm," and was most recently heard during the season finale trailer of Fox's hit show "Empire." His music video for "Intro" exclusively premiered on MTV.com's homepage, and the video has also appeared on MTVU, Absolute Punk, 2Dopeboyz, Raps & Hustles and The College Dropouts.
ABOUT MANSION: NF's musical story is full of lyrical vulnerability and is complimented by raw energy, and his brand new LP continues the theme that stemmed from his EP debut. Mansion is comprised of songs based from his real life struggles, including being abused as a child, struggling with anger issues, and losing his mother to a drug overdose. "Music has always been a part of what's going on with my life, emotionally, relationally, what I'm dealing with and what I'm struggling with," NF shares.
Explaining the story behind the album title, "My house is a mansion," NF explains. "The mansion is my mind and represents my thoughts and my struggles, and each room is a song filled with words and experiences of my life with the walls covered in lyrics. Every song you hear is an emotion and something I've been through or going through when I write it. I'm just allowing people to see the things in my mind that not everybody wants to talk about but where a lot of people can relate."
At press time, the video for his single "All I Have" has had more than 725k views, and his latest video "Wake Up" has been viewed by more than 286k. The music video for "Wake Up" was also added to MTV2's broadcast rotation. NF has also trended on Billboard's Real-Time charts, an up-to-the-minute ranking of the fastest moving songs shared on Twitter within the U.S.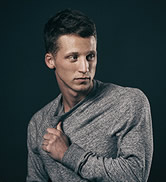 ABOUT NF: The music of Nate Feuerstein, recording and performing as the hip-hop/alternative artist "NF," continues to reach the masses. This 23 year-old Gladwin, Michigan native is Capitol CMG Label Group's most recent signing and compelling new talent, and is already becoming a household name in just a matter of a few months. NF's been touted by Chris Chicago from JamTheHype.com as one of the "Top 5 Artists Poised To Blow Up in 2015," and "a combination of Macklemore and Drake's flow along with Eminem's energy" (from Breathecast.com). Rapzilla claims NF as "a talent and passion combined with content that is needed in hip-hop right now."
To find out more about NF, visit NFRealMusic.com, facebook.com/nfrealmusic, and twitter.com/nfrealmusic