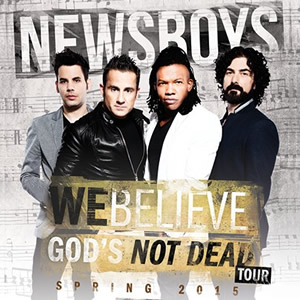 NEWSBOYS are back out in 2015 to support the hit single "We Believe" and movie God's Not Dead with the 'We Believe God's Not Dead' Tour, running February 12th to May 10th (extended tour dates to come). Following their record-breaking / sold-out tour in Fall 2014, one of CCM's most influential bands will return to the stage with special guests AUDIO ADRENALINE and FINDING FAVOUR.
This tour pulls its name from two of the Newsboys' best known songs "We Believe" and "God's Not Dead" which is a statement of the Newsboys faith. Duncan (drummer) says "Every time we play this live on tour, each night, it is so exciting. We think 'Yes! THIS is what we believe to be true!'". A lot of times we have the culture screaming the opposite at us. But the words to this song resonate in our hearts – "I believe in God the Father, I believe he died on the cross, I believe he rose and that he's coming back again"
These lyrics are clear, proclaiming the Gospel in black and white, and the Newsboys are coming to Houston with hopes that this truth will resonate with thousands. Lead singer, Michael Tait, says he can "watch the faces of the audience every night when we sing this song on tour and there are tears as they sing this out from their hearts. It gives me chills every single night. It's a great moment that is really the heart of this tour for us. It's a rallying call – a celebration and declaration of our faith. WE BELIEVE!" The promise being proclaimed on this tour is one that Believers can rally behind and the Newsboys want to cement this truth, deep down in your spirit, as we come together to proclaim, "We BELIEVE God's Not Dead!"
About NEWSBOYS:
Newsboys are one of the most influential bands in Christian music today with more than 8 million units sold, 33 #1 radio hits, four GRAMMY® nominations and multiple Dove Awards, along with numerous other accolades. Among the genre's top touring artists, Newsboys co-headlined NewSong's Winter Jam Tour Spectacular-the #1 tour in the world, first quarter 2014, in addition to their own "We Believe Tour," which saw sellouts across the country. Newsboys' latest recording and debut collection of hymns, Hallelujah For The Cross, released November 2014 and features the legendary group's take on nine classics and one new selection.
About AUDIO ADRENALINE:
Since they became a band in the mid 90's, to date Audio Adrenaline has sold over three million records, has garnered two GRAMMY® Awards (for Best Rock Gospel Album of the Year for Until My Heart Caves In and Worldwide) and multiple Dove Awards. The band has achieved 17 No. 1 singles, was awarded CCM Song of the Decade for "Big House" and their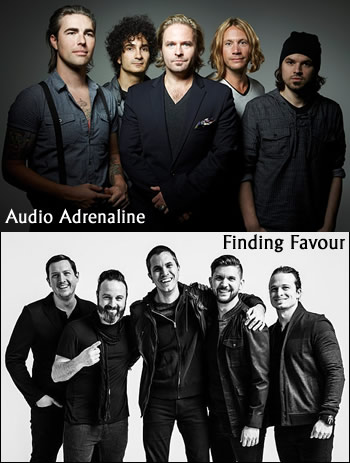 1996 album Bloom received RIAA Gold certification. In 2007, Audio A's lead vocalist Mark Stuart had to step down due to a vocal condition. Forced to stop singing altogether, the band chose to turn their energies to their Hands & Feet Project, a non-profit organization dedicated to providing long-term, family-style care for orphaned and abandoned children of the world with the love of Christ. Today, Audio A returns to the stage with the same heart, passion and infectious musical prowess, while serving as spokesmen for the Hands & Feet Project.
About FINDING FAVOUR:
Known for their powerful vocals and moving anthemic songs, Finding Favour has skyrocketed into the hearts of fans. Personally discovered by Gotee Records founder and CCM icon Toby Mac, Finding Favour's debut release gained momentum with their first single "Slip On By". Following that up, their single "Say Amen" continued their upward climb with its message of the never-ending faithfulness of Christ. Consisting of Blake Neesmith (lead singer/vocals), Dustin Daniels (bass/guitar/vocals), Allen Dukes (guitar/vocals), and Josh Duckworth (drums), Finding Favour has aimed to make music that inspires listeners in every aspect of their lives. Lead singer Blake NeeSmith remarks, "We pray that our hearts and songs will stand as a reminder that no matter who you are, where you're going or what you're going through at the time, His purpose for us is so much greater than we can imagine. The best is yet to come." Finding Favour is currently in the studio finishing their next project to be released in 2015.
For more information, visit: newsboys.com
We Believe God's Not Dead Tour
2015 Spring Schedule
FEBRUARY
19 Austin, TX – Great Hills Baptist Church
20 College Station, TX – Central Baptist Church
21 Wichita Falls, TX – Evangel Temple
22 Hidalgo, TX – State Farm Arena
27 Topeka, KS – Light of the World
28 Springdale, AR – Springdale High School
MARCH
01 Greenwood, MS – Leflore County Civic Center
06 Ft. Lauderdale, FL – Calvary Chapel Ft. Lauderdale
07 Macon, GA – Macon City Auditorium
08 Boaz, AL – Snead State Bevill Center
13 Effingham, IL – Effingham Performance Center
15 Jackson, MI – Jackson Community College – The Potter Center
20 Brookfield, WI – Elmbrook Church
21 Wisconsin Dells, WI – Crystal Grand Music Theatre
22 Elkhart, IN – Lerner Theatre
26 Albany, NY – The Palace Theatre
27 Port Huron, MI – McMorran Arena
28 Grove City, PA – Grove City College
29 Richmond, VA – Richmond Outreach Center The ROC
APRIL
09 Scranton, PA – Scranton Cultural Arts Center
10 Lancaster, PA – Calvary Church
11 Lynchburg, VA – Liberty University Vines Center
12 Opp, AL – Channel Lee Stadium
16 Williamsport, MD – Gateway Ministries
17 Elmira, NY – First Arena
18 Indiana, PA – Indiana University of Pennsylvania
19 Wheeling, WV – The Capitol Theater
23 Mountain Grove, MO – Mountain Grove High School Arena
24 West Des Moines, IA – Lutheran Church of Hope
25 Bemidji, MN – Sanford Center
26 Marshall, MN – SMSU RA facility
MAY
01 Greenville, SC – Timmons Arena
02 Johnson City, TN – Freedom Hall
03 Myrtle Beach, SC – Beach Church
07 Brunswick, OH – Grace Baptist Church
08 Beaver Dam, KY – Beaver Dam Amphitheatre
09 Greensboro, NC – White Oak Amphithearter
Dates and locations subject to change. Click here for more information/extended tour dates/buy tickets.