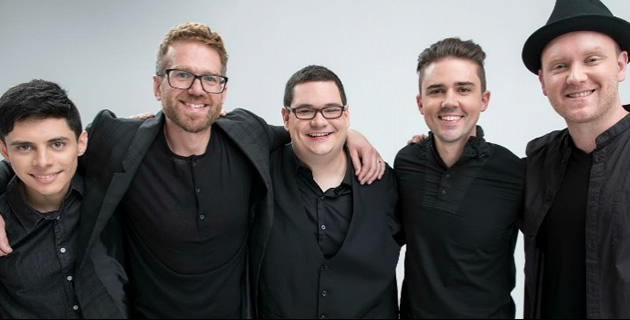 The wait is finally over: Sidewalk Prophets will release its third Fervent Records studio album on Aug. 28, 2015 sending a three-year wait for fans of the Dove Award winning band.
Fans can hear new music from Something Different now by downloading the first single "Prodigal" here, by pre-buying the record in their webstore, or catching the group live this summer, beginning this weekend at the KLOVE Fan Awards in Nashville and continuing in the Fall on the All The Earth Is Holy Ground Tour with Tenth Avenue North.
"Something Different is the album we've always hoped to create," lead singer and founding member Dave Frey said. "I believe that it captures the passion, energy and musical creativity that we have always longed for people to hear. Every song is rooted in Scripture, and every moment of the record has been carefully pieced together. We've gone to great lengths to share this season of our lives with listeners. "
Something Different is produced by Seth Mosely and will feature 14 tracks written by the band. Frey and fellow band members Ben McDonald, Cal Joslin, Justin Nace and Daniel Macal say the album is an unashamed declaration that Jesus Christ is the way, truth and the life and that we stand together armed with true love, the greatest weapon against the darkness. "Prodigal," which impacts radio on June 26, calls out to those who have wandered far from home, find themselves isolated, ashamed or alone. It's an anthem to remind listeners that the same feet that have led them astray will bring them back home to a God that longs for their return and celebrates in their arrival.
"Something Different is not just a collection of songs," Frey said. "It is an album and a journey where all the songs come together to tell one unique story. That story is that there truly is something different about us. That something different is Jesus Christ. I hope this album, through the gift of music God has given us, can give listeners the courage to live fervently and recklessly shine love in to the darkness."
In support of the album, and a topic that is of extreme importance to them, Sidewalk Prophets will encourage fans to participate in their 'Be Something Different' campaign this summer. They want to incite a movement to ignore the pressure to conform to pop culture norms in a world dominated by immediate gratification and self-centered desires. The band wants to tell stories of how God is using people to do extraordinary things and will post videos of inspiring stories across their social media platforms tagged with #BeSomethingDifferent.
For more information about the campaign, to buy tickets for one of their upcoming shows, or to learn more about Something Different as details become available, visit www.sidewalkprophets.com and follow @SWProphets on Twitter.