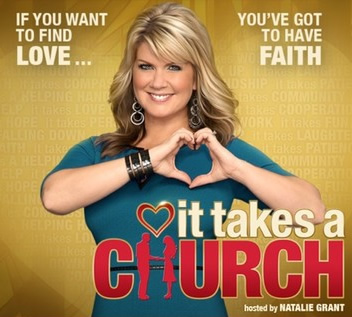 Grammy®-nominated vocalist and multiple Dove Award winner Natalie Grant returns for a second season as host of GSN-TV's IT TAKES A CHURCH; visiting churches in California, Michigan, Tennessee, Alabama, Indiana and Wyoming, and elsewhere in hopes of finding love for one lucky single. Each week, IT TAKES A CHURCH travels to a different location, to surprise one unsuspecting single with the news that they're about to be saved from the dating world, as numerous matchmakers present people they believe would be a great match. Decided by that contestant's family, friends and those closest to them in the church community! After a series of dates, one person will be chosen, and the matchmaker who brought The Chosen suitor also wins a donation made to the church in their name.
Natalie Grant appears on Foxnews; announcing her return as host of IT TAKES A CHURCH
Highlights in season two include special guest appearances by actors/performers David & Tamela Mann ("Madea's Big Happy Family") and musician Bo Bice ("American Idol"), plus a shocking surprise proposal. In its first season, IT TAKES A CHURCH was watched by over 6 million people and it achieved triple-digit growth with audiences.
IT TAKES A CHURCH is produced by Authentic Entertainment for GSN, with Tom Rogan and Lauren Lexton ("Flipping Out," "The Best Thing I Ever Ate") serving as Executive Producers along with Curnal Aulisio. Sean Kelly ("Minute To Win It") is Consulting Producer. Follow the show online at Twitter: @ItTakesAChurch and Facebook.com/ItTakesAChurch
About Natalie Grant
Multi-Grammy nominated Natalie Grant is a powerhouse vocalist, heart-gripping songwriter, and charismatic performer who has consistently remained one of the top selling Christian & Gospel artists since her 2005 breakout RIAA Gold certified album, Awaken. She has since gone on to have over 3 million in career sales.
The Gospel Music Association named her the 2012 Female Vocalist of the Year, an honor that she's received 5 times. Natalie's latest album, "Hurricane," debuted at #1 on the Christian Billboard Charts in the fall of 2013. Beyond her artistry, she is an outspoken advocate for victims of human trafficking. In 2005, Natalie founded an anti-trafficking organization, which is now called Hope for Justice International, known for its work in providing quality restorative aftercare to trafficking victims both domestically and internationally.