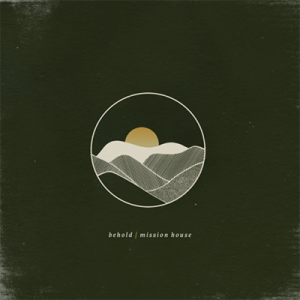 Brentwood, TN (March 27, 2020)
Taylor Leonhardt and Jess Ray, the creative duo known as Mission House, announce the aptly-timed deluxe release of their Easter anthem, "Behold." Available now from Integrity Music, the single is available in both a studio and acoustic version, the latter which features Sarah McMillan. "Behold" is the latest new music to release from the duo since their debut self-titled project released last November.
Leonhardt, who wrote "Behold" six years ago, shares the inspiration when writing the song, "I was inspired by John's dream and vision in Revelation 21:5 when he hears the risen Jesus say, 'Behold, I am making all things new.' So I started dreaming—what would that look like? Can I picture it?"
Watch the new lyric video:
The empty filled, the wounded healed / The broken back together
The poor are blessed, the weary rest / We will dance forever
The blinded see, the chained are free / The doubtful now believer
The outcast known, the orphan home / You are my Redeemer
Behold, behold, behold / What love can do
Behold, behold / He's making all things new
– excerpt lyrics from "Behold"
Leonhardt continues, "There's a famous line in Tolkien's Return Of The King when Samwise asks Gandalf essentially the same thing, 'Is everything sad going to come untrue?' I think poets and storytellers and artists and songwriters have been asking that question for as long as we've known what suffering is. When King Solomon says God has put eternity into the heart of man, I think he's talking about our capacity to see and dream and hope for God's reality to eclipse our own."
When Leonhardt began sharing "Behold" at her church, people soon began to share stories with her—from those who lost a marriage, buried a child, people healing from abuse, or those wrestling with addiction. There were numerous stories of great heartbreak and loss and sorrow, and also stories of healing, hope, and resurrection.
"'Behold' began to sprout from a more hypothetical place that became tangible, and I was seeing what the love of God was capable of with my own eyes," Leonhardt explains. "Our hope is not just that Jesus will make things right one far off day in the future—it's that even now He has already begun. I saw it in the eyes of people who shared their stories with me, I heard in their voices real embodied hope. The darkness really will be light, the dead really will rise. The prayer is that when we hear this song and sing it in our cars or in our churches, that we would all believe a little more in the resurrection, that we would start to look for it everywhere."