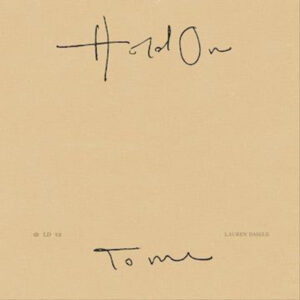 Nashville, TN (February 26, 2021)
Two-time GRAMMY Award winner and multi-platinum selling Christian music artist Lauren Daigle has released the long awaited song, "Hold On To Me." This marks her first original new music since 2018's GRAMMY Award winning Look Up Child. This is also the first time the song has been commercially released, having been performed exclusively on tour. In pairing Daigle's legendary range with sweeping melody and heartfelt lyrics, "Hold On To Me" embodies a poignant message of hope that is further solidified through the powerful emotion behind her powerhouse vocals.
"I hope "Hold On To Me" reminds people there's still good in the world," shares Daigle. "No matter the circumstance you are walking through, there is someone in your life there to help you get through it. There's something powerful about having people in your life that see who you are through the worst of circumstances and still choose you. "Hold On To Me" is about all of us coming together and remembering that being with each other and being there for each other is what life is truly all about."
Watch the lyric video:

Since the release of her GRAMMY Award winning, platinum certified album Look Up Child, Lauren Daigle has reigned on the Billboard Charts. The album debuted at No. 3 on the Top 200 Albums chart making Daigle the first female artist to simultaneously hit the Top 10 on both Billboard's Pop and Christian Billboard Album Charts. In addition, the GRAMMY Award winning triple-platinum crossover hit, "You Say," became the longest-running No. 1 song of any genre on the weekly Billboard Hot charts at an incredible 116 weeks. Daigle has earned seven Billboard Music Awards, four American Music Awards, ten GMA Dove Music Awards and sold-out concert venues all over the world.