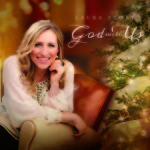 Talented worship leader and songwriter Laura Story brings her first Christmas album, God With Us, to celebrate the holiday season. Laura is well known for her inspirational, certified RIAA Gold hit "Blessings," which won her awards several times over, including a 2012 Billboard Music Award, a GRAMMY® Award and four Dove Award wins.
Favorite Christmas Memory | For the past ten years, I've had the honor of spending Christmas Eve with my church family at Perimeter's Christmas Eve Service. Every year, we close the service by singing "Silent Night," each holding candles that are lit row by row as we sing. There's a feeling that comes over us that truly can't be put into words as we see the light start at that initial Christ candle and spread throughout the room. It's a simple reminder that's why Jesus came.
Favorite Christmas CD | Amy Grant
Favorite Holiday Food | Publix Peppermint Ice Cream (only available in December)
Favorite Christmas Tradition | We used to have a sweet tradition of leaving after the last Christmas Eve service at Perimeter and driving to one of our parents' houses, singing Christmas carols the whole way.
Favorite Christmas Gift | DIAPERS!!