KB'S NEW ALBUM TOMORROW WE LIVE, AVAILABLE NOW AS AN ITUNES RADIO FIRST PLAY
Atlanta, Ga. (April 14, 2015)—Award-winning hip-hop artist KB's sophomore album Tomorrow We Live is now available to stream in its entirety on iTunes Radio as an iTunes Radio First Play (iTunesRadio.com/KB), giving fans exclusive access to the stream of the album before it becomes available to the public on April 21.
Available only in the U.S., First Play on iTunes Radio has been the home of many top selling artists including Lecrae, AC/DC, Mary J. Blige, Reba McEntire and more. The album will be available for the week before release and if music goers like what they hear, they can pre-order Tomorrow We Live on iTunes (iTunes.com/KB) and receive instant downloads of his hit singles "Sideways feat. Lecrae," "Crowns & Thorns (Oceans)," and "Ima Just Do It feat. Bubba Watson."
Recently, the Reach Records' artist unveiled "Ima Just Do It" featuring professional golfer Bubba Watson. This is KB's third single from the long awaited album.
"During the songwriting process, the lyrics became about taking risks in relationships, and in life, living by faith and not by fear," explains the critically acclaimed rapper. "I have a guest appearance by the great Bubba Watson, a professional golfer. While he is a golfer, he likes to rap, so we worked on a verse and he came in and slayed it. The song is about risk-taking and just 'doing it,' so we did just that, having a golfer on a hip hop song!"
Shortly after his album launch, on May 8, KB will embark on a special "Tomorrow We Live Concert Series" in key markets including Los Angeles, Dallas and Orlando. For a full list of concert dates, and more information on Tomorrow We Live, go to www.whoiskb.com.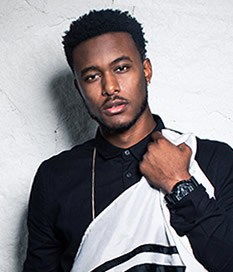 About KB:
Kevin Elijah Burgess, better known by his stage name KB, is an American Christian hip hop artist from St. Petersburg, Florida. He is the leader of HGA, and was signed as a solo artist to Reach Records in 2010. He is also a member of the Reach Records-based hip-hop collective 116 Clique. After releasing a mixtape in 2011 entitled Who Is KB?, his debut album, Weight & Glory, was released on July 17, 2012, to critical acclaim. KB resides in Tampa, FL with his wife where he indulges in crab legs, boxing, heading up HGA, and serving at Living Faith Bible Fellowship Church. He has toured around the world since the release of his debut and has become a staple in the 1-1-Six movement. "100", his latest EP, aims to make listeners realize that what you do isn't nearly as important as who you do it for.