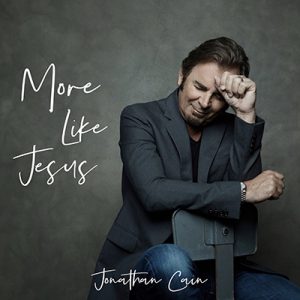 Nashville, TN (May 3, 2019)
Rock & Roll Hall of Fame inductee and Journey member Jonathan Cain globally releases his fourth new solo Christian music album in as many years, More Like Jesus, May 3. As this iconic artist continues to press into his faith with inspired new music, the album is available everywhere now at all digital retailers and streaming outlets.
"Showcasing powerful vocals with big production and that signature Journey sound we all love, Jonathan Cain's new album, More Like Jesus, is a celebration!" exclaims Parade contributor Laura B. Whitmore. "…Chock full of upbeat testimony underlined by sincerely catchy lyrical hooks and moving spiritual explorations, More Like Jesus is a triumphant collection of what are sure to become worship favorites."
The debut single, title track and first lyric video from More Like Jesus was immediately dubbed a "Hot Track" by iTunes when it released and was added to multiple Spotify playlists, including New Music Friday Christian.
Watch it here:

"I think the bouncy beat and hooky melodies of 'More Like Jesus' deliver a deeper, more urgent lyrical message; something we could all use in this world we live in; to prepare in our hearts to become more like Jesus," says Cain. "He taught tolerance, forgiveness, acceptance, kindness and love and so much more – emotions our world seems to have forgotten. Maybe some that hear the song will consider following His paths of living life."
The boldness of this song set a tone for the new album. Cain wrote most of the More Like Jesus songs while he was on a 58-city arena/stadium tour with his Journey bandmates that played to over one million people last year, and recorded them while on break from the tour at Addiction Sound Studios in Nashville.
"When I listen to this music," continues Cain, "I believe God has taken me to a deeper level on this album in scripture and in my own testimony and walk with Christ. Certainly, becoming a worship leader and having a place to perform my music in church in front of the congregation at New Destiny Christian Center has fueled my creativity."
In addition to the aforementioned songs, tracks like "Now Unto Him," "Tell Your Mountain" and "Unleashed" have already become worship favorites at New Destiny Christian Center in Orlando, FL, where he leads worship and his wife, Paula White, is the Senior Pastor. Cain's "Beautiful In Every Way" was written as a tribute to his wife and a salute to all woman in their walk with Christ.
All the latest news about Cain, his solo albums, book and more can be found at http://jonathancainmusic.com