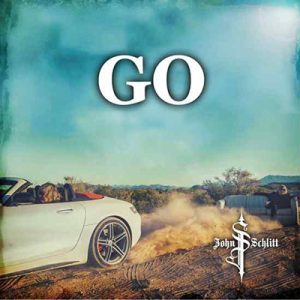 Nashville, TN (February 18, 2020)
Legendary rock vocalist, Grammy and Dove Award-winning Christian music artist and GMA Hall of Famer John Schlitt has released his first solo album of original material in seven years. GO, an 11-song collection of sanctified rock 'n' roll, was offered as a limited digital pre-release through Schlitt's website in December 2019, and the project's official digital and physical CD release is set for February 28, 2020. GO will be available for sale from 4K Records through iTunes, Amazon, and other digital media outlets.
In an unusual move, the project—although a 2020 release—was tapped in pre-release as one of the Top 10 Albums of 2019 by Classic Christian Rock Magazine, which extols the project's sweet melodies, direct lyrics, and Schlitt's seemingly ageless vocal prowess. GO joins chart toppers and fan favorites on CCR's 2019 "Best Of" list, including projects by Newsboys, Michael Sweet, David & the Giants, and Guardian's Jamie Rowe.
Schlitt's vocals have arguably never been in better form. With production and engineering by Dan Needham, John Lawry, and Mark Lee Townsend, combined with savvy songwriting collaborations with the likes of Needham, Lawry, Townsend, Jerry McPherson, Scott Bernard, Jeff King, Scott Faircloff, Ryan Horn, and Chuck Anderson, and A-list musicianship from some of Nashville's finest, GO is a tour de force of straight up, spiritually astute rock 'n' roll. It's the kind of album that sounds great the first time through, then gets better each time you listen to it.
The title track eases you into the groove, with a deceptive acoustic guitar and bongo line that builds in intensity, with the not-so-subtle message to get up and do something. "As Christians, we have been sitting around for too long," Schlitt declares. "We are blessed, but with blessings come responsibility. What is God calling you to do? Do it!"
If there was any question about the rock 'n' roll nature of the project, Schlitt answers emphatically on "Feel It," the first single. Thundering toms, driving guitars, and Schlitt's signature grit and gravel vocals undergird the song's clarion call to "have a little faith."
Schlitt struts confidently into classic arena rock territory on "Takin' It Higher," then pulls back on the piano-driven rock ballad, "Fighting the Fight." "Life is a fight," Schlitt muses. "Without Christ, you're wasting your time. With Christ, the battle is already won. You just have to go forward and do what God's put on your heart to do."
Fuzzy distortion and a techno vibe enhance "Just Let Go," a thumping, Beach Boys-esque rocker with a message of trusting God when you can't see the next step. The tune segues effortlessly into the loopy, cautionary prog-rocker, "Time Keeps Rollin.'" Then, Schlitt proves he can groove with best of them on the Motown-inspired "Where Would I Be," that will have you wondering if the California Raisins are singing background vocals. "'Where Would I Be' is just one of those songs I've always wanted to do," Schlitt grins. "The music style is fun and the title says it all."
"Find a Way," which finds Schlitt exploring the softer side of acoustic rock 'n' roll, is a song that would not feel out of place on a Crosby, Stills & Nash album. Ripped-from-the-headlines lyrics, thudding drums, tasty electric guitar licks, and passionate vocals underscore the in-your-face message of "Fake News."
If Stallone ever decides to do another Rocky movie, "Let's Go" could easily be the theme song. "Are you fighting for truth or illusion?" Schlitt wails. "I am a fighter on my way / There is no time to hesitate. / Let's go!"
Schlitt closes the project with a playful bonus track, "Not Dead Yet." The singer, whose career has spanned more than half a century, proves he can not only run with the big dogs, he can still compete with the young pups in an industry that is increasingly youth-centric.
Visit: www.johnwschlitt.com