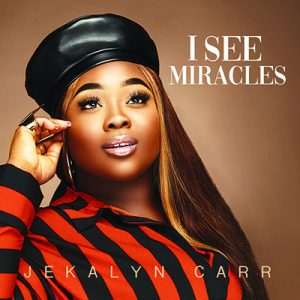 Nashville, TN (April 22, 2019)
Award-winning Gospel music artist, author, actress, and entrepreneur, Jekalyn Carr is releasing a brand new single, "I See Miracles," to celebrate her 22nd birthday today.
The inspiration behind the song came from the interactions Jekalyn has shared with people from around the globe as she ministered. "During my visits to different cities, so many people would come to me, asking me to agree with them in prayer for what they were believing for. They would post on my social media, too—people from all across the world were trusting God for jobs, family restoration, finances for school, houses, children, needing cars, running for goverment office and on and on," says Jekalyn. "Then, it hit home as my family and I began to believe God to move some mighty mountains in our lives. In the spirit, we begin to hear: If you believe in something long and hard, if you believe in something with all your heart, it shall come to pass…I see miracles, I see miracles, I see miracles, happening for you. I quickly began to learn that this was a faith activation message—not just for me but for people to hold on and not to quit to what they were believing for, because God is surely to bring it to pass."
The track was produced and written with Jekalyn's father, Allen Carr. The father/daughter duo come together again to present this inspirational and faith-activating song, "I See Miracles." As a team, they have garnered three #1 Billboard Gospel singles at radio within the last three years—"You're Bigger," "You Will Win," and "It's Yours."
The release of "I See Miracles" comes fresh on the heels of Carr's Stellar Awards wins. The beloved young woman was awarded in the categories of Albertina Walker Female Vocalist of the Year, Traditional Female Vocalist of the Year and Traditional CD of the Year for the project One Nation Under God, and set the arena on fire during her performance of "It's Yours." Her latest single, "It's Yours," held the No. 1 spot on the Billboard Gospel Airplay chart as well as the MEDIABASE Gospel chart for 9 consecutive weeks.