Los Angeles, CA (July 24, 2019)
Los Angeles-based worship group, Influence Music, made up of artists Matt Gilman, Melody Noel, Michael Ketterer and Whitney Medina, have released their highly anticipated sophomore album Rebels available worldwide on digital platforms. Leading up the the album release, Influence Music premiered the music video for the title track "Rebels" which gave viewers a sneak peek into the post-apocalyptic companion short film—available now on the worship collective's YouTube channel.
"'The new album and short film is a bold declaration of God's affection for those deemed least worthy of his love," shared Melody Noel of the group. "It's about not conforming to the pattern of this world and standing in truth no matter the cost! We wanted to visually communicate the message of our album in a way that would be innovative and evangelistic. The 'Rebels' short film was the result. Set in a post-apocalyptic world where Christianity is forbidden, a band of misfit children seeks to save the lost through the message of the gospel. With resounding tones of Peter Pan's Lost Boys, the short film illuminates redemption through the visible restoration of innocence."
The album and short film break new ground both sonically and visually from Sunday morning anthems from Matt Gilman, radio-friendly ballads from Melody Noel, raw, soulful vocals from Michael Ketterer and the pop sensibilities of Medina.
"Rebels is the truest thing to my personal story I've been a part of," shares Ketterer. "I believe it will impact people and bring them back to that place of first love and ignite a fire of adventure back into their faith."
Rebels features 10 powerful inspirational tracks including their previously released singles "Redeemed," "Honest," "Right Here (Hallelujah)," "Over and Over" and the title track. Produced by Jordan Sarmiento and Michael Barkulis and recorded out of Anaheim HIlls, Rebels aims to be a voice for anyone whom religion is so quick to judge.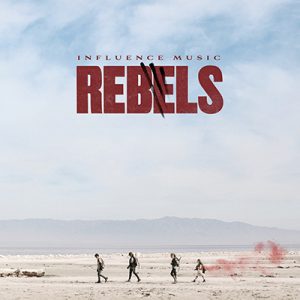 Rebels Track Listing:
1. Rebels: Influence Music & Michael Ketterer
2. Redeemed: Influence Music & Matt Gilman
3. Honest: Influence Music & Melody Noel
4. Responsum A Patre (Instrumental)
5. Over and Over : Influence Music & Matt Gilman
6. Abandoned : Influence Music & Whitney Medina
7. Soil & Sky: Influence Music & Propoganda
8. City On A Hill : Influence Music & Melody Noel
9: Right Here (Hallelujah) : influence Music & Whitney Medina
10: Rebels Finale : Influence Music & Voices of Hope