Franklin, Tenn – Singer and songwriter Tim Timmons is set to release his sophomore album, Awake Our Souls, on October 2, 2015 (Reunion Records). After nearly two decades of ministry, this singer/songwriter moves himself beyond believer to follower in ten new songs, which are also an invitation for every listener to discover life's abundance in Jesus.
"We talk about all these things I've known about my whole life — like freedom in Jesus and overwhelming joy — but I've never known it until now and it's just this awakening in my soul," Timmons shares. "The goal of this record is to invite people into a new reality of the Kingdom of God that is around us all the time."
This concept of the Kingdom of God is not only ingrained in Timmons' music but also his daily life — especially when he received his cancer diagnosis 14 years ago and given five years to live. "The gift of cancer is perspective," Timmons says. "It's really the open door to speak into people's stories."
Since his 2013 Reunion Records debut, Cast My Cares, Timmons has been writing songs stemming from personal experience and sharing them with audiences on a national platform. Now, the songs found on Awake Our Souls, especially the album's title cut and its first radio single, share the newfound purpose of living each day to its fullest and to the glory of God.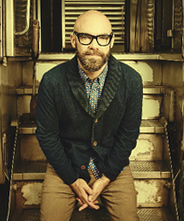 Along with leading worship and touring his new album, Timmons has partnered with K-LOVE TV for a new series aptly titled "Timmons Pantry Raid" showcasing his other passion – cooking. On his show, Timmons will go into celebrity homes to make something out of the random ingredients found inside their pantries. "Cooking is one of my favorite things to do. If I weren't a musician, I'd probably be a chef. I just love it," he exclaims. "Really, like everything in my life, food is just the vehicle for a good conversation." Set to air this fall, Timmons has already filmed episodes with Jason Crabb and Tenth Avenue North's Mike Donehey.
Tim Timmons will be touring with MercyMe and Phil Wickham this fall, along with various one-off dates throughout the rest of the year. He will celebrate his album's release with a special CD Release Show at Mariners Church in Irvine, California, where he was worship leader for 15 years. For his updated tour schedule, please visit his tour page.
Awake Our Souls Track Listing:
1. Awake Our Souls
2. Everywhere I Go
3. Changed
4. The Outcome
5. Rest My Soul
6. Right Beside Me
7. You Are Good (That I May)
8. Spring Up
9. Finally Breathing
10. All I Really Want
Watch the video of Tim talking about "Awake Our Souls":
Tim shares about living with cancer:
Connect with Tim Timmons:
Website // http://www.timmonsmusic.com/
Facebook // https://www.facebook.com/timmonsmusic
Twitter // https://twitter.com/timtimmons
Instagram // https://instagram.com/timmonsmusic/
YouTube // https://www.youtube.com/user/timmonsmusic