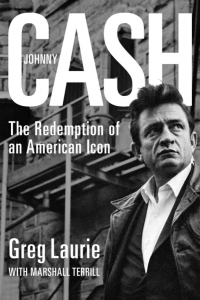 Washington, DC (July 20, 2019)
Evangelist, pastor, radio host, and the author of more than 70 books and films, Pastor Greg Laurie of Harvest Ministries releases his newest book, Johnny Cash: The Redemption of an American Icon (Salem Books), on Tuesday, August 20.
Described by Johnny's sister, Joanne Cash Yates, as the book her brother might have liked best, Johnny Cash dives deep into the singer's inner demons, triumphs, and gradual return to faith to reveal how Cash's true success came through finding the only Person whose star was bigger than his own.
At the peak of his career, Cash had done it all—living the ultimate rags-to-riches story of growing up on a cotton farm to performing for several American presidents. But by the release of the iconic Man in Black album, the middle-aged legend was broken down, hollow-eyed, and wrung out.
In the follow-up to his wildly successful book Steve McQueen: The Salvation of an American Icon, Laurie again teams up with veteran biographer Marshall Terrill to interview Cash's family, friends, and closest business associates to uncover the singer's hard-fought search for peace.