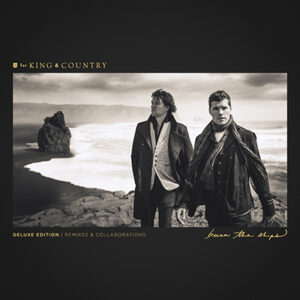 Nashville, TN (February 8, 2021)
Four-time GRAMMY Award-winning Christian music duo, for KING & COUNTRY, has announced the forthcoming release of their latest album Burn The Ships (Deluxe Edition: Remixes & Collaborations), due to release on March 26, 2021. Starting with the GRAMMY winning collaboration with Dolly Parton in 2019 for the duo's platinum selling No. 1 track "God Only Knows," Joel Smallbone and Luke Smallbone have spent the last two years bridging gaps and achieving "TOGETHERNESS" with their cross-genre collaborations. The 17-song project includes guest appearances by Dolly Parton, Timbaland, Tori Kelly, Kirk Franklin, and more.
"Thank you all for embarking on the Burn The Ships voyage over the last few years," Joel and Luke share in a statement. "Since the album's release, there have been wonderful collaborations bringing with them new and fresh musical moments that we felt deserved to be grafted into this record's story going forward. Our hope is this 'complete edition' brings with it a new emotion, depth, and spirit."
"This album no longer belongs to us or these other incredible voices who lent their talents to it, it belongs to you," Joel & Luke continue. "It's your stories, your heartfelt conversations, texts, FaceTimes and gifts that have inspired and reinspired us along the way—honestly, you have given this catalog of songs a whole new meaning and life, and not only given us the courage to keep stepping forward, but have also helped us find redemption in our own stories."
Recently, for KING & COUNTRY released their latest single and lyric video for "Amen (Reborn)" featuring Lecrae plus The WRLDFMS Tony Williams, a song about renaissance and renewal.
Watch the new Music Video here:

for KING & COUNTRY first teamed up with Lecrae on his track "Messengers" in 2015, earning the inaugural GRAMMY Award for Best Contemporary Christian Music Performance/Song that year. Earlier this year, for KING & COUNTRY continued to expand their palette by joining with labelmates Hannah Ellis and Jackson Michelson to release "TOGETHER (The Country Collaboration)"—a brand new rendition of the duo's multi-week No. 1 hit.
Burn The Ships (Deluxe Edition: Remixes & Collaborations) tracklist:
1.   Introit
2.   joy.
3.   God Only Knows
4.   Amen
5.   Burn The Ships
6.   TOGETHER (feat. Kirk Franklin & Tori Kelly)
7.   Fight On, Fighter
8.   Need You More
9.   Control
10. Never Give Up
11. Hold Her
12. Pioneers (feat. Moriah & Courtney)
13. Amen (Reborn) [feat. Lecrae & The WRLDFMS Tony Williams]
14. God Only Knows (feat. Dolly Parton)
15. Fight On, Fighter (Theatrical Remix)
16. joy. (Shadowlands Piano Remix)
17. God Only Knows (Timbaland Remix) [feat. Echosmith]