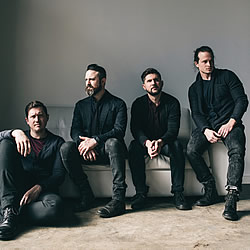 Nashville, Tenn. — Finding Favour continues to reach major milestones in their career with a Top 10 single, country video premiere and joining the 'Air 1 Positive Hits Tour'. All of this success is from their first full album, Reborn, which debuted No. 2 on Billboard's Christian Album Chart.
Finding Favour's video for "Tiny Town," premiered on one of country music's high-profile websites, Taste of Country, August 27th. The band's lead singer, Blake NeeSmith will also be interviewed in support of the video premiere. This is Finding Favour's second foray into the country market, as the band's previous "Slip On By" video premiered on TheBoot.com and became a Top 40 hit for Austin Webb on the Billboard country charts.Watch the video of "Tiny Town" here…
At the same time, Finding Favour's current Christian single, "Cast My Cares," became the group's first Top 10 single on Billboard's Hot AC/CHR chart. The song is currently No. 15 on the National Audience Chart and No. 16 on AC Monitored.
Finding Favour will be joining the prestigious Air 1 Positive Hits Tour with Crowder, Lauren Daigle, NF and 3 For 3. The 22-city tour launches Aug. 27 in Indianapolis, IN and concludes October 3 in Jackson, MS. The band will then join Sanctus Real's Farewell to a Friend Tour starting October 7 in Iowa Falls, IA.
About Finding Favour
Finding Favour released their first full album, Reborn, June 23, 2015, and the first singlen "Cast My Cares," is the group's fastest rising song to date, already charting in the Top 10 on Billboard's Hot AC/CHR chart. Finding Favour was formed in 2005 in Vidalia, GA and consists of band members, Blake NeeSmith (vocals), Allen Dukes (guitar), Dustin Daniels (bass guitar) and Josh Duckworth (drums). The band signed with Gotee Records in 2012 and released their first studio EP, Finding Favour EP, in March 2013 followed by tours with Building 429 and Hawk Nelson. Their first single, "Slip On By," reached Billboard's Top 25 Christian AC chart. The song also became a Top 40 Country radio hit for country artist, Austin Webb. Finding Favour's second single, "Say Amen," released in 2014 and peaked Top 25 on Billboard's NCA chart and was supported by tours with Kutless and Audio Adrenaline. The band toured earlier this year with the Newsboys 'God's Not Dead Tour', and will begin the 'Air 1 Positive Hits Tour' in late August.
For additional updates on Finding Favour please visit online,
Website: www.findingfavour.com
Facebook: www.facebook.com/findingfavour
Twitter: www.twitter.com/findingfavour
Instagram: www.instagram.com/findingfavour