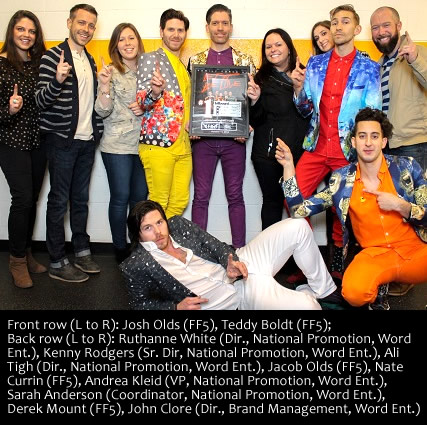 FAMILY FORCE 5 SECURES CAREER FIRST RADIO NO. 1 WITH "LET IT BE LOVE"
February 12, 2015 – Nashville, TN -Word Entertainment recording artist, Family Force 5, recently reached the No. 1 spot on the Billboard CCM Hot AC/CHR Chart with lead single, "Let It Be Love," from the alternative pop/rock band's latest studio effort, Time Stands Still, their first release on Word Entertainment. Family Force 5's current radio single, "Show Love," is off to a strong start with support from the entire CCM Hot AC/CHR panel, coming in at No. 9 this week.
Family Force 5 is currently playing to arena-size crowds on Winter Jam 2015. This summer, the band will be a main stage artist during Warped Tour 2015.
ABOUT FAMILY FORCE 5
Alternative Pop/Rock band Family Force 5 – which consists of members Derek Mount ("Chap Stique" / guitar, vocals), Jacob Olds ("Crouton" / vocals, drums), Joshua Olds ("Fatty" / bass, vocals), Nathan Currin ("Nadaddy" / keyboards, vocals, percussion) and Teddy Boldt ("Hollywood" / drums, percussion) – formed in Atlanta in the summer of 2005. Since then, the band has not only joined The Vans Warped Tour and headlined The Alternative Press Tour, but have also performed at Sonisphere Festival, Bamboozle Festival, Rock and Worship Roadshow, Parachute Festival and toured with artists such as TobyMac, Cobra Starship and Flyleaf. Creating chart-topping albums and achieving impressive success at radio with their No. 1 hit "Let It Be Love," alongside singles such as "Superhero" and "Not Alone," Family Force 5's music has been featured on ESPN, while their official music videos have received more than 30 million YouTube views, including "Sweep The Leg," "BZRK (feat. KB)" and "Chainsaw."
For more information, visit www.familyforce5.com.