Nashville, TN (February 23, 2022)
Chart-topper multi-genre Christian music artist DOE has created a dynamic new album with soulful encouragement and musical vitality on CLARITY, out now. Released by Jonathan McReynolds' Life Room Label in partnership with RCA Inspiration, the three-time GRAMMY nominee has debuted a full-length album of eleven tracks, featuring songs like her #1 hit Gospel music radio single "Brighter," "Clarity," "Mercy," and "So Good," the current single out at CCM radio. DOE, who has garnered praise for her radiant vocals, instrumental and songwriting talents as a standout performer and fresh voice to watch, also marks the release of her new album with the radio launch of "When I Pray," the latest single to be added to Gospel radio.
Bringing clear-eyed empowering honesty, relating joy, vulnerability, hope and resilience on CLARITY, DOE's album inspires listeners in gaining self-discovery and understanding of their own spiritual walk with God. Making her start in music professionally as a teenager, DOE first gained worldwide attention performing with her family in the septet Forever Jones, who released three albums and garnered numerous accolades, including the #1 hit Gospel song "He Wants It All" and two GRAMMY Award nominations. DOE's third GRAMMY nomination came as a featured artist on Jonathan McReynolds' hit song "Cycles." Continuing her journey in leading ministry and developing music, DOE fully steps into performing, writing, and producing on CLARITY as a solo artist. An accomplished guitar player and writing on all eleven songs, DOE also co-produced on some of the album, in collaboration with her brothers Judah Jones and Dewitt Jones, Darryl Howell, and Jonathan McReynolds.
DOE says of the title track "Clarity" and the album's theme, "In listening to that song, Clarity is the point where I am in my life. I feel like I'm coming to a beautiful understanding of who I am and what my role is as a child of God." She advocates to listeners to embrace just being themselves, saying, "The more of themselves that they're willing to accept and not reject because it's different from what others think, the more powerful their partnership with God and faith. That's the freedom I want listeners to walk away with on this album."
 ** Photo by Derek Kozakiewicz
Visit: https://DOE.lnk.to/ClarityPR!WW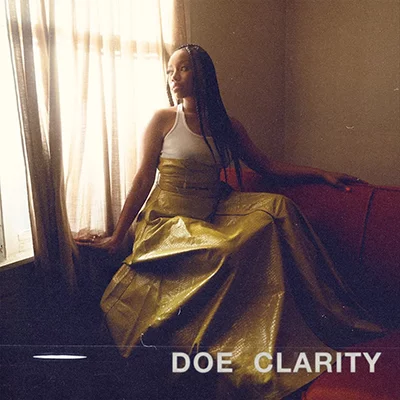 CLARITY Album Track List:
Brighter
When I Pray
Good Now
I Try
Clarity
Hey You (feat. Jonathan McReynolds)
What I'm Waiting For
Mercy
Take Me Back
So Good
Undoing
YouTube Album Playlist:

Spotify Album Playlist: