Just like Joseph, you can't see the whole picture. Just like Joseph, your task is to see that Jesus is brought into your part of your world. And just like Joseph, you have a choice: to obey or disobey. Because Joseph obeyed, God used him to change the world. Can He do the same with you?
God still looks for Josephs today. Men and women who believe that God is not through with this world. Common people who serve an uncommon God. Will you be that kind of person? Will you serve… even when you don't understand? No, the Bethlehem sky is not the first to hear the pleadings of an honest heart, nor the last. And perhaps God didn't answer every question for Joseph. But He answered the most important one. "Are you still with me, God?" And through the first cries of the Godchild the answer came.
"Yes. Yes, Joseph. I'm with you."
There are many questions about the Bible that we won't be able to answer until we get home. Many knotholes and snapshots. Many times we will muse, "I wonder…"
But in our wonderings, there is one question we never need to ask. Does God care? Do we matter to God? Does He still love His children?
Through the small face of the stable-born baby, He says yes.
Yes, your sins are forgiven.
Yes, your name is written in heaven.
Yes, death has been defeated.
And yes, God has entered your world.
Immanuel. God is with us.
______________________________________________________________________________________________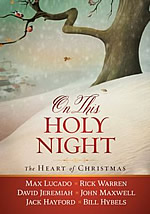 Rekindle the true meaning of Christmas with the help of six gifted Christian communicators.
Every year, the story of Christmas is told and retold, but sometimes the very familiarity of holiday traditions causes us to overlook the vital expressions of this meaningful season. On This Holy Night: The Heart of Christmas breathes new life into several aspects of the Christmas story through the voices of six beloved Christian communicators. Each author explores the meaning of Christmas in different facets of the holiday:
Max Lucado — a look into Joseph's story, a man caught between what God says and what makes sense
Rick Warren — the real gift of Christmas is that God sent His own Son to connect with the human race
David Jeremiah — why the name of Jesus is so important and perfect
John Maxwell — how to journey like the wise men to unexpected places

Jack Hayford — a look into Mary's story, a woman who embraced the seemingly impossible with God at her side
Bill Hybels — rediscovering meaning in the nativity scene
Sure to connect readers back to the heart of the holiday, this beautiful four-color gift book will be treasured for years to come.