Then the people shouted, and the trumpets blasted. The noise of the voices and trumpets rose higher and higher, and the thick walls of Jericho collapsed, just as God had promised. When the wall fell before them, they rushed straight ahead and took the city… Joshua 6:20 (The Voice)
Walls are all around us.
Walls of race. Walls of hate. Walls of religion, fear, and insecurity separating us from each other. Walls of sin and shame separating us from God.
It was never God's plan for us to live with walls. His original design was for us to live in Eden—a place of freedom and intimate communion with Him. But then sin entered the world, and walls started going up everywhere.
Thankfully, Jesus entered the world to make things right, restoring our relationship with God back to how it was in Eden. Back to intimate communion with God. Back to a world without walls.
Yet all too often, the enemy tricks us into believing those walls of sin and shame still exist. He convinces us we're still not good enough or not worthy enough to be in God's presence.
The Good News
But here's the good news … we'll never be good enough. We don't have to be good enough, though. Our salvation is a free gift, one with no strings attached. The enemy has already lost. So when Satan tells me I'm not good enough, the best thing I can do is agree, and boast about my weaknesses, so that the power of Christ can work through me (2 Corinthians 12:9). I simply get to rest in the truth that Jesus has saved me by grace, defeated the grave, and now calls me righteous.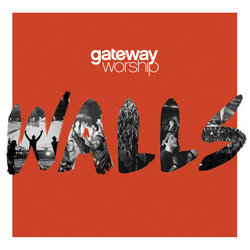 When I started writing "Walls," my heart was to put words of declarative praise in the mouth of the Church to remind our enemy that Jesus has already defeated him and to continually remind us that Jesus has set us free.
As my wife, Kari, and I have traveled around the country this past year, we've seen God uniting the Church in a unique way. So many different streams of the Church are reaching across
invisible lines to honor and connect with each other. We're awakening to the realization that we are better and we are stronger when we work together.
Standing Together
If you think about it, the Israelites who conquered Jericho didn't really do much. They marched around a wall seven times and shouted really loud. Anyone could do that. But the key was they did it together, and they invited God into their midst by raising their voices in praise. God's presence and power comes to life when we lock arms with each other, and lift up praise. And anytime you welcome God into an atmosphere, things change, and He tears the walls down.
Prayer
In the months and years to come, my heart's prayer will be for God to do whatever He wants with this song. And wherever He decides to use it, I also pray that every heart would gain a revelation of His love and freedom.
As we sing and lift up our voices in praise to Jesus, let us pray that walls and enemy strongholds over our cities and families would come crashing down. …that we would go outside the four walls of our churches and walk across the street to love people who may be different from us. …that local churches would reach across town to other churches, and discover God's way to work together. …that the blessing God commands as a result of unity in Psalm 133 would be tangible,
because we're living in a place of oneness with God and with the people around us. …that God's presence would fill our hearts, homes, streets, and churches—for that is the greatest blessing of all.
Jesus says in John 13, Just as I have loved you, you should love each other. Your love for one another will prove to the world that you are my disciples. May the Church in the days to come be a unified church that loves like Jesus.
For far too long, God's people have believed we have to live behind walls and be separate from each other. But that lie doesn't hold weight, whatsoever. It is being exposed as a lie by this truth—that there is nothing better than standing together.
Walls are coming down!