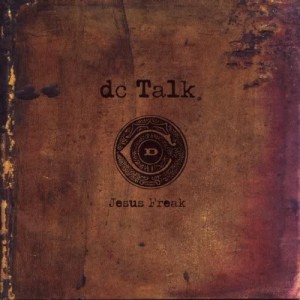 From the eerie opening guitar chords that explode into this seemingly brand new group's sound, it was clear to fans of DC Talk that this record was certainly a "new thang."

Transport yourself back to November 21, 1995. Specifically, go back to the first time you popped in that cassette, or tore open the Jesus Freak jewel case's cellophane, and think hard for a minute.

Had you ever heard Christian music sound quite like this before?

The last time fans heard Toby [McKeehan, TobyMac], "Mike" [Michael Tait, now fronting Newsboys], and Kevin [Max Smith] on a new DCT track was three years prior, in 1992 (Free At Last). "Word 2 The Father" had the upbeat hip-hop/pop sounds the trio was known for, which followed with the beautifully harmonized "Jesus Is Just Alright (Reprise)," to round out a record groundbreaking in its own right. Fast forward just another three years, and the world of music had changed.

Hip-hop had already moved on to more of a gritty, West Coast/gangsta sound, while the East Coast was telling their own tales of violence and drugs. The friendly Fresh Prince style of rap was no longer a sure shot, and TobyMac, would no doubt admit he didn't have the street cred to pull off the new wave. However, what McKeehan did possess was a keen sense of how to craft the music people wanted to hear, and how to successfully pull it off without tarnishing the brand.

As Jesus Freak introduced itself to listeners for the first time, "So Help Me God" led the charge as the first track, but also served as the leading edge in leaving an indelible mark on DC Talk fans, and lovers of Christian music alike. As quickly as TobyMac himself stated just 34-seconds into the reel, everyone knew that Christian music was "in for a ride."

The mastery of the album's production and songwriting certainly had shock value to the CCM audience, but the melding of DC Talk's trusted—well, decent Christian talk—and the sounds of the times seemed to make sense. Hip-hoppers were able to transition from head bobbing to head banging, while the group's message, now sheathed in a more jagged tone, was easily accessible to a broad range of music consumers, in and out of the Christian market.

And speaking of the market, Jesus Freak hit the ground running—selling more than 85,000 copies in its first week of release, a record for a Christian album, and achieving RIAA Certified Gold status (500,000+ copies) within the first month. DC Talk was selling out arenas, appearing on talk shows, and most importantly, leaving mainstream critics scratching their heads as these "Jesus freaks" charted heavily on a wide array of radio formats.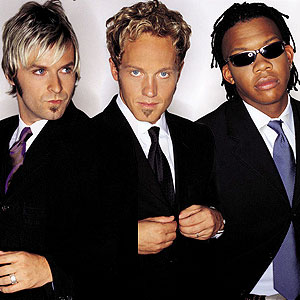 Jesus Freak's impact is so evident on music that we are still talking about it twenty years later. As we usher in its 20th Anniversary celebration, and now seventeen years since their last studio recording as DC Talk collaboratively, it is the transformative legacy of Jesus Freak that still leaves people of all ages clamoring for just one reunion show, let alone a full tour.
TobyMac, now beyond the point of being a household name as a solo artist, continues to churn hit after hit. And as mentioned, former band mates Michael Tait fronts the legendary Newsboys, while Kevin Max has been on a music production flurry lately, as he continues to release experimental and successful art/pop records regularly.
Specifically, the magic these three men created some time between 1992 and 1995, along with producers Mark Heimermann, Todd Collins, and a slew of other key musicians and personnel, lies within the declaration of their faith, boldness in direction, and the attention to detail in making true artistry that spoke to them at the time, despite emerging from what ever trends they had set before.
Jesus Freak paved the way for many Christian artists to come, and also upped the game for making great art without compromising a deep message of faith.
Stay tuned to CCMmagazine.com, as CCM Magazine will feature exclusive interviews from the artists and producers of Christian music's Sgt. Pepper's, providing an insider's glimpse into the making of, and impact that Jesus Freak had on its creators.