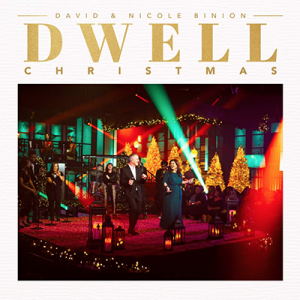 Brentwood, TN/Dallas, TX (November 22, 2019)
The iconic worship team of David and Nicole Binion have released their first-ever Christmas music album, Dwell: Christmas, with Integrity Music. The 11-song project features such guests as William McDowell, Steffany Gretzinger, Potter's House Choir, Daniel Johnson, the Binion's 18-year-old daughter and fellow Integrity artist MDSN (Madison), and more. Dwell: Christmas, which was recorded live at TBN in Dallas, Texas, is the follow-up to their highly successful August 2018 live release, Dwell: A Live Worship Experience, also recorded live at TBN.
David and Nicole Binion have both shared, "Worship is the sound our life makes," and that very statement continues deep into the creation of their debut Christmas project. While Dwell: A Live Worship Experience encompassed songs about being in close proximity to the presence of God and was created to share David and Nicole's whole worship journey from the past ten years, Dwell: Christmas focuses on God coming to dwell on earth with us, continuing to share songs that bask in God's presence.
"If there's one word that describes this season of our lives it's 'dwell,'" David shares. "As we moved forward into Christmas, we wanted this project to be an extension, not more of the same but an elevated version of what we'd just been through with Dwell. The unusual thing about this project is that the worship experience was so real, so authentic, and the moments happened spontaneously. We didn't expect or plan the moments that came, which makes it so special."
Nicole adds, "Christmas really is our favorite time of year. We know a lot of people feel that way, but to get to record Christmas music with dear friends who are just so gifted was such a treat for us."
Dwell: Christmas encompasses both classics and new songs either written or co-written by David. "At Christmastime, we get caught up in the buzz of life," he shares. "It's when we remember to pause and make room in our hearts for Jesus that everything changes."
Married for more than 25 years, David and Nicole Binion have been involved in ministry for over two decades. Last fall they planted Dwell Church in their hometown of Dallas, and they continue to teach and lead worship at various events and other churches around the world. Either being before a crowd of thousands, writing songs, preparing for their next album, or being together as a family, so much about their life resonates with sounds of hope and faith. What drives them is this longing in the hearts of Jesus-followers and this vision for making room for the Spirit to move.
Visit: www.BinionWorship.com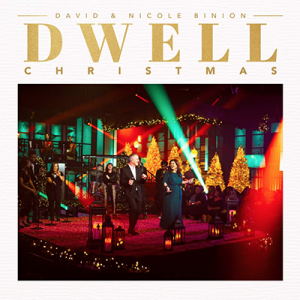 Dwell: Christmas track listing:
1. Carol Medley (Featuring Daniel Johnson, Jeremiah Woods, Tina Baker, Taylor Poole, Trinity Anderson, and MDSN)
2. Let Us Adore
3. Glory To God (Feat. Potter's House Choir)
4. The Reason (Feat. William McDowell)
5. Making Room
6. Hope Awakes (Feat. Steffany Gretzinger)
7. I Pray On Christmas (Feat. Daniel Johnson)
8. A Merry Merry Christmas (Feat. James Gross, Ava Brockman, and Kids Choir)
9. Silent Night (Feat. MDSN)
10. God With Us (Feat. Potter's House Choir)
11. Let Us Adore (Reprise)